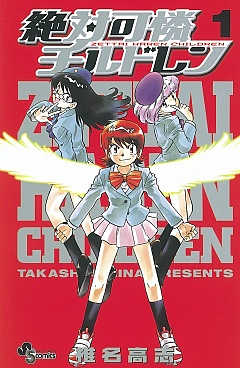 ---
Zettai Karen Children Wiki
Wiki founding
: June 13, 2011
Page count
: 92
Last checked
: February 2, 2015
---
Wiki is Adoptable
---
Zettai Karen Children (絶対可憐チルドレン, lit. Absolutely Lovely Children) is a Japanese shōnen manga by Takashi Shiina. The manga started being serialized in Shogakukan's manga magazine Shōnen Sunday in 2005. An anime series began on April 6, 2008 which ran for fifty-one episodes. Shiina developed the series out of a short story he had written in a special issues of Shōnen Sunday. The series was essentially the same, except for the fact that Kōichi Minamoto was named "Hikaru Minamoto", and he also had psychic powers.
TV series
Edit
Zettai Karen Children: Psychic Squad - aired April 8, 2008 to March 29, 2009
Zettai Karen Children: The Unlimited - airs on TV Tokyo January 7, 2013
In the future, people with ESP are becoming more widespread, requiring training to be able to use their power for constructive purposes. Unfortunately, there are also espers that abuse their powers and wield them to destructive ends. The Japanese government's solution to both challenges is the establishment of the Base of Backing ESP Laboratory (B.A.B.E.L.) for the purpose of appraising, identifying, nurturing, and protecting espers (even if that means apprehending them as if they were criminals). Five decades later, B.A.B.E.L. locates a trio of natural Level 7 (the maximum esper potency designation) espers within Japan, and assembles them into the special esper team known as "The Children". However, all three have developed questionable attitudes because of the persecution and ostracization caused by the ignorant fear of their powers. Still, the question now becomes whether Kaoru Akashi, Shiho Sannomiya, and Aoi Nogami can be refined into young ladies.
External Links
Edit
TV Tokyo website (Japanese)
Zettai Karen Children website (Japanese)
The Unlimited website (Japanese)
Other Sources
Edit
Other Wikis
Edit
References
Edit
Ad blocker interference detected!
Wikia is a free-to-use site that makes money from advertising. We have a modified experience for viewers using ad blockers

Wikia is not accessible if you've made further modifications. Remove the custom ad blocker rule(s) and the page will load as expected.