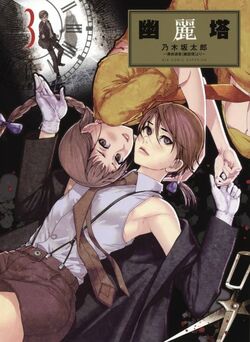 ---
Yuureitou Wikia
Page count
: 4
Last checked
: January 14, 2018
---
---
Genre:

Drama , Horror , Mystery , Romance , Supernatural 

Tags:

Media:
Yuureitou (幽麗塔, lit. "The Ghost Tower") is a manga series by Tarou Nogizaka. It was serialized in Big Comic Superior.
In the 1950s, an old woman was brutally murdered on the face of a clock tower by her adopted daughter. Two years later, the clock tower is known as the 'ghost tower' and it is supposedly haunted. Through an unusual series of events, a young NEET man named Amano Taichi is attacked by someone or something in the same clock tower, and finds himself bound to the clock face to be killed in the same way as the old woman. Luckily for Amano, he doesn't meet the same fate. He's rescued by a mysterious person who claims his name is Tetsuo.
Tetsuo is searching for a treasure that is connected with the ghost tower, and he wants Taichi to be his partner. Taichi, whose life has mostly consisted of poverty, loneliness, and pornography, is enticed by the idea of gaining extreme wealth. He's further convinced when a house fire leaves him without a home and depends on Tetsuo's charity. The adventure is going to be very dangerous, since the same 'enemies' who attacked Taichi before seem certain to try something again! Not to mention, Taichi really knows very little about his new partner, including his true gender!
External Links
Edit
Other Sources
Edit
Other Wikis
Edit
References
Edit
Ad blocker interference detected!
Wikia is a free-to-use site that makes money from advertising. We have a modified experience for viewers using ad blockers

Wikia is not accessible if you've made further modifications. Remove the custom ad blocker rule(s) and the page will load as expected.