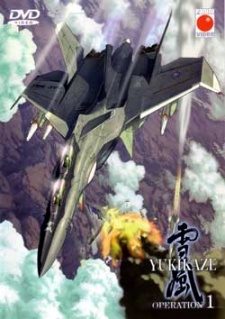 ---
---
Yukikaze (雪風, Yukikaze; lit. Snowy Wind) is a five-episode Japanese direct-to-video anime series produced by Gonzo and Bandai Visual and was released in Japan from August 28, 2002 to August 25, 2005. It is based on a popular science fiction novel of the same name by Chōhei Kambayashi, and was produced in commemoration of Bandai Visual's 20th anniversary. It was also later aired in Japan on the anime television network Animax, who later aired in its English language networks across Southeast Asia and other networks worldwide.
The series is notable for its air combat scenes, which were created with the help of the Japan Air Self-Defense Force. The JASDF worked with the Gonzo production team by recording actual sounds of the F-15J Eagle and running test flights at Komatsu Air Base, and having discussions on air combat tactics.
Yukikaze has twice won the Tokyo Anime Award for Original Video Animation in 2003 and 2006.
This full 3DCG digital animation has story takes place in the far future after a pillar of huge fog appeared suddenly in the South Pole. This pillar, known as Jam, is actually a passage for an earth invasion.
In order to oppose the threat, the United Nations established an earth defense mechanism. Fukai Zero is a hero registered to the main force of earth defense and the special 5th flight squadron. His reconnaissance plane, Yukikaze (windblown snow) is the best tactical reconnaissance plane. His job is to collect battle information return safely to the base with the information. But one day when he about to finish his duty, an unidentified machine attacked him...
External Links
Edit
Other Sources
Edit
Other Wikis
Edit
References
Edit