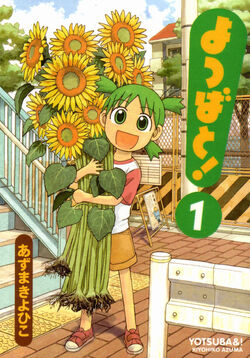 ---
Yotsuba Wiki
Wiki founding
: December 23, 2008
Page count
: 311
Last checked
: December 17, 2014
---
Genre:

Media:
Yotsuba&! (よつばと!, Yotsuba to!) is an ongoing Japanese comedy manga series by Kiyohiko Azuma, the creator of Azumanga Daioh. It is published in Japan by MediaWorks, now ASCII Media Works, in the monthly magazine Dengeki Daioh and collected in eight bound volumes as of August 2008. It depicts the everyday adventures of a young girl named Yotsuba Koiwai as she learns about the world around her, guided by her father, the neighbors, and their friends. Several characters in Yotsuba&! were previously featured in a one-shot manga called "Try! Try! Try!" The phrase Yotsuba to means "Yotsuba and," a fact reflected in the chapter titles, most of which take the form "Yotsuba and something."
Yotsuba&! is centered on Yotsuba Koiwai, a five-year-old[1] adopted girl who is energetic, cheerful, curious, odd, and quirky—so odd and quirky that even her own father calls her strange. She is also initially ignorant about many things a child her age would be expected to know, among them doorbells, escalators, air conditioners, and even playground swings.[2] This naiveté is the premise of humorous stories where she learns about, and frequently misunderstands, everyday things.
At the start of the series, Yotsuba and her adoptive father, Koiwai, relocate to a new city with the help of Koiwai's best friend, an impressively tall man nicknamed Jumbo. Yotsuba makes a strong impression on the three daughters of the neighboring Ayase family, Asagi, Fuka, and Ena, and many of her misadventures come from her interactions with them.
The series has no continuing plot—the focus of the stories is Yotsuba's daily voyage of discovery. Many chapters take place on successive days (for details, see List of Yotsuba&! chapters), so that the series follows, almost literally, the characters' daily lives. The tone can be summarized by the motto, used on chapter title pages and advertising, "Today is always the most enjoyable day" (いつでも今日が、いちばん楽しい日, Itsu de mo kyō ga, ichiban tanoshii hi).
External Links
Edit
Other Sources
Edit
Wikia Redirects
Edit
Other Wikis
Edit
References
Edit
↑ Initially, she claims to be six years old, but this is corrected by her father in chapter 36
Ad blocker interference detected!
Wikia is a free-to-use site that makes money from advertising. We have a modified experience for viewers using ad blockers

Wikia is not accessible if you've made further modifications. Remove the custom ad blocker rule(s) and the page will load as expected.