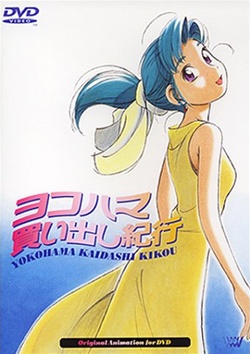 ---
---
Genre:

Science Fiction , Slice of Life 

Tags:

Media:
Yokohama Kaidashi Kikō (ヨコハマ買い出し紀行) is a science fiction manga written and illustrated by Hitoshi Ashinano. The title can be translated Yokohama Shopping Log or Record of a Yokohama Shopping Trip. One tankōbon volume, the publisher's former English language website, and the second original video animation (OVA) series have the subtitle Quiet Country Cafe in English. The series is often referred to in wapuro romaji as Yokohama Kaidashi Kikou, or simply abbreviated as YKK by fans outside of Japan.
The manga was serialized in Kodansha's Afternoon magazine from June 1994 to February 2006, with a concluding postscript episode in July 2006, and collected in 14 tankōbon volumes. Parts of the story were adapted as two OVA anime series of two episodes each.
The series depicts the daily life of a robot who runs a coffee shop some time after the Earth's ecology has collapsed. It is noted for its beautifully spare pen-and-ink drawing style, as well as its calm, meticulously paced stories and engaging characters Yokohama Kaidashi Kikō won the 2007 Seiun Award for best science fiction comic.
This is not so much a story as it is a slice of life. Or rather, it is a look into portions of the life of a girl named Alpha, together with the people around her. Alpha runs a little cafe on the outskirts of Yokohama. There are almost no customers, but Alpha does not mind at all since she has the occasional company of the old man who runs the gasoline stand down the road, as well as that of his grandson Takahiro. This is a Yokohama of the future, when the sea covers most of the land and roads have disappeared under sand or water. Alpha is in fact a robot, looking after the cafe during her owner's indefinite leave of absence.
External Links
Edit
Other Sources
Edit
Other Wikis
Edit
References
Edit
Ad blocker interference detected!
Wikia is a free-to-use site that makes money from advertising. We have a modified experience for viewers using ad blockers

Wikia is not accessible if you've made further modifications. Remove the custom ad blocker rule(s) and the page will load as expected.