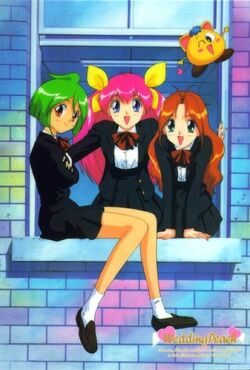 ---
Wedding Peach Wiki
Wiki founding
: April 6, 2009
Page count
: 47
Last checked
: December 6, 2017
---
Wedding Peach (愛天使伝説ウェディング・ピーチ, Ai Tenshi Densetsu Wedingu Pīchi, lit. "Legend of the Angel of Love: Wedding Peach") is a manga by Nao Yazawa and Sukehiro Tomita. It was serialized in Ciao, and published by Shogakukan in Japan. In North America, Viz Media published all six volumes.
The manga was later adapted into a fifty-one episode anime with two omakes. Several video games were released at the height of its popularity. In 2004, a simpler version of Wedding Peach again by Nao Yazawa was written and released under the title, Wedding Peach: Young Love.
Momoko Hanasaki is a middle school student at St. Flower Junior High. She, along with her friends Yuri Tanima and Hinagiku Tamano, are members of the newspaper club where they mostly cover the school's soccer team and all have a crush on the star player Kazuya Yanagiba. But they are also constantly annoyed by the team's other player Yousuke Fuuma, who calls Momoko, Momopi, much to her dismay. On their way home from school one day, they are attacked by a devil by the name of Pluie who is a servant to the high ruler of the devil world, Reine Devila. When her friends are hypnotized into attacking Momoko, a beautiful man comes down from the sky named Limone, who is from the angel world and gives Momoko a compact case. Opening the compact, she is told by Aphrodite, the ruler of the angel world, that she is one of the legendary Love Angels, Wedding Peach. Momoko transforms into Wedding Peach and manages to snap her friends out of Pluie's control. Over the course of the story, Yuri and Hinagiku also find out that they are also love angels and the three must protect the humans from the devils and defeat Reine Devila. They are later joined by the fourth love angel, Scarlet, who doesn't get along with the other love angels, but manages to warm up to them by the end. At the same time, the relationship between Yousuke and Momoko turns to love, but a terrible secret from the Yousuke's past could tear them apart.
External Links
Edit
Other Sources
Edit
Other Wikis
Edit
References
Edit