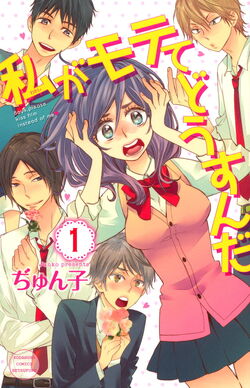 ---
Watashi ga Motete Dōsunda
Wiki founding
: June 17, 2014
Page count
: 78
Last checked
: March 5, 2017
---
Genre:

Media:
Kiss Him, Not Me, known in Japanese as Watashi ga Motete Dōsunda (私がモテてどうすんだ, lit. "What Should I Do? I'm Popular?") is a Japanese slice of life romance shōjo manga series written and illustrated by Junko. It is published by Kodansha since 2013 on Bessatsu Friend magazine. Nine volumes compiling the chapters have been released so far. It is published online in English by Crunchyroll and the volumes will be published by Kodansha USA. An audio drama adaptation of the first chapter was released on January 13, 2015. An anime adaptation has been announced and is due air in October 2016. The manga won Best Shōjo Manga at the 40th Kodansha Manga Awards.
Kae Serinuma is a fujoshi, a female otaku who loves reading yaoi material and imagining men together in romantic relationships, both fictional and real. After one of her favorite anime characters is killed off, the shock causes Kae to lock herself in her room for a whole week. When she eventually comes out, she discovers that she has suddenly lost a lot of weight, becoming a beautiful girl that catches the eye of four boys at her school: Yūsuke Igarashi, Nozomu Nanashima, Hayato Shinomiya, and Asuma Mutsumi. Despite learning about Kae's bizarre tendencies, the four boys, along with another fujoshi girl named Shima Nishina, all fall for Kae and begin competing with each other for her affection, much to Kae's frustration as she wants them to get along with each other.
External Links
Edit
Other Sources
Edit
Other Wikis
Edit
References
Edit
Ad blocker interference detected!
Wikia is a free-to-use site that makes money from advertising. We have a modified experience for viewers using ad blockers

Wikia is not accessible if you've made further modifications. Remove the custom ad blocker rule(s) and the page will load as expected.