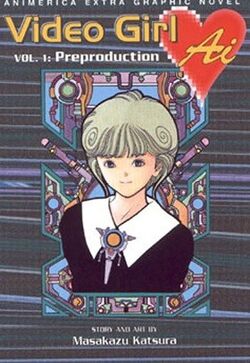 ---
Video Girl Ai Wiki
Wiki founding
: July 27, 2012
Page count
: 1
Last checked
: December 2, 2017
---
---
Genre:

Science Fiction 

Media:
Video Girl Ai (電影少女, Den'ei Shōjo?, lit. "Video Girl") is a manga series created by Masakazu Katsura and published by Shueisha's Weekly Shōnen Jump. It also has an anime adaptation. The manga is published in English by Viz Communications. It was formerly published in the anthology Animerica Extra by Viz.
The story starts when Yota Moteuchi finds out that the girl he likes, Moemi Hayakawa, is in love with his best friend, Takashi Niimai. Disappointed by this fact, he decides to rent a video from a mysterious video store that appeared in front of him on his way home. The video store was called "Gokuraku" ("Paradise"). The unique thing about this video store was that the videos in the store contained "video girls", girls which literally come to life and out of the user's television when the video tape is played to cheer the renter up. Not knowing about the video girls, Yota chooses to rent the video 'I'll Cheer You Up!', starring Ai Amano. Ai comes to life with the purpose to brighten up Yota's life and encourage him to pursue his love.
However, Yota plays the video on a broken video recorder, which causes Ai to come out "broken"; among other effects she has the ability to feel emotions. This additional feature of Ai causes her to eventually fall in love with Yota; a feeling which, after giving up on Moemi, Yota begins to return. However, a mysterious man related to Gokuraku known as Rolex enters the story and tries to recall Ai as she is faulty, and the fact that Ai's tape is nearing the end of its playing time makes matters even worse.
External Links
Edit
Other Sources
Edit
Other Wikis
Edit
References
Edit