Hi, welcome to Animanga Wiki! Thanks for your edit to the User blog:Jottie22/Hopefully Helpful Tips to the Next Masters of Animanga Project page.
Please leave a message on my talk page if I can help with anything! Sxerks (talk) 04:23, September 22, 2013 (UTC)
I would like to see your skills
Edit
I got your message, I'm interested in your proposal. But I would like to see how good your drawing skills are. What I'm looking for in an artist is something like this pic: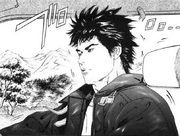 I know I'm probably expecting too much, but I envisioned a comic that brought out the best in both American comics without the nitty-gritty drawings and the semi-colorful and clean Japanese manga without the exaggerated features on a character (I don't mean just faces, some of those are also in American comics). If characters are of different ethnicities like say East Asian, I would like to see the epicanthic fold like on the pic. I wouldn't want exaggerated features like say a highly barrel-chested person like Superman either (I kind of find that as offensive as women with oversized breasts).
Anyway, I would like to see your best work. I'll think about your offer then.--Zeromaro (talk) 18:20, October 5, 2013 (UTC)
I will admit, your fanart was impressive I even saw that drawing you did for Ryunosuke. But can you do anything like that pic I showed? That kind of realistic artwork is what I'm really looking for in an artist.
Side-note: I saw your blog, I like the idea of alternate realities, and you obviously know my idea of using the best of American comics and Japanese Manga. But I'm going to need to see something like that pic (realistic like American comics but clean artwork and characterizations from Manga).--Zeromaro (talk) 23:47, October 5, 2013 (UTC)
For your resume, I'd like to see a drawing of two people with different physical characteristics. For example, I would like to see a Caucasian person with light hair, a high nasal bridge, and light colored eyes (that goes without saying those have be realistic, not big enough to cover a good portion of the face like in manga/anime or some American cartoons). The other person I would like to see would look East Asian including the lower nasal bridge and eye fold that comes with it (kinda like the Kenshiro pic). Can you also do an animal like a dog (any kind will due)?
The persons can be guys or girls (whatever floats your boat), they can have any hairstyle you want, any physical build even, but I noticed in your drawings that some of the characters had slightly disproportional limbs (try to avoid that). They don't have to be totally clean just enough so that I don't see grime like a close-up of a DC character. If you can pull that off, I think you'll have more than just me wanting you as a partner.
I know this is a lot, but I really want real skill in the artwork portion of comics. If you don't want to do this, I understand.--Zeromaro (talk) 03:02, October 6, 2013 (UTC)
Hey I got your message and I'm sorry too. Looking over my messages, I realized I sounded like a jerk. From a different point of view I guess I wanted to be more in control of the partnership than I thought. Plus when I saw the website you worked on, it didn't really feel like something I wanted to do. I love manga, but I wanted to do something that made the best of both comic worlds and I could tell from your pictures that just wasn't your style.
In my eyes, you were more of a sketch artist than a comic artist. I should know because in a way I'm a sketch artist, while most drawings I do from scratch aren't all that great (human or humanoid characters I have a problem with but animals and monsters are my strengths), my sketches can accurately depict a person or thing with a few out of place lines here and there and the drawings on your page were kind of like pics I drew. I can even copy art styles by other artists.
What I'm trying to say is, somewhere I felt like I didn't need your drawings for stories I do or what I envisioned them to be. I guess I was subconsciously looking for an excuse to get out of the partnership before it started or even hope for the impossible that you would succeed in what I requested.
I'm not saying you should reconsider picking me. I saw your blog and you look like you already made a few partners. But I would like to see your projects with those people when they're finished. Maybe send me a link when possible. Again I'm really sorry I tried to force things on you and I hope you get a great partner.--Zeromaro (talk) 07:09, October 6, 2013 (UTC)