Anime Summer Movie Guide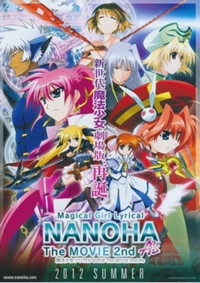 Lots of great anime films are coming out this summer--how many are you going to see? There is a great variety of genres, from the kittenish Magical Girl Lyrical Nanoha: The Movie 2nd A's to the terrifying Resident Evil: Damnation, to the action packed Naruto 6: Road to Ninja and of course the all-too-cute, Jewelpets the Movie: Sweets Dance Princess. With so many different types of movies, there is sure to be something for every anime fan out there. So, which one are you most interested in seeing? Vote at the bottom, on our poll!
Note: This list only applies to stand-alone specials, not DVD/Blu-Ray episode collection releases--some of the entries below are of bonus episodes, but they are new, not re-released

Air date: August 18
For all you Fairy Tail friends, get excited for the latest film: Fairy Tail: Priestess of the Phoenix. In this film, a mistake Lucy makes causes everything to run amuck--their bandit prisoner, Geese, has been let go by accident, and it's essential that they find him. But Lucy finds something else indeed--Eclair, a girl who has lost her memory and has a pet bird named Momon. While Eclair hates magic, she must help Lucy, as well as deliver the mysterious Phoenix Stone.

Air date: July 14
Magical Girl Lyrical Nanoha: The Movie 2nd A's brings back Nanoha, Fate and Hayate in this fun, action-packed film. The super-sexy girls are back and they're kicking butt with their usual forms of super magic. So far we don't know much about the intricate plot, or additional character, but we do know that it is believed to be a retelling of Magical Girl Lyrical Nanoha A's.

Air date: July 2012, July 14 in Japan
If you're a fan of Pokemon, it's essential to check out the fifteenth movie in the franchise. Best Wishes!: Kyrum Vs. Seikenshi is about Kyruem and the Musketeer Trio and will take place in the Unova region. It will feature the pokemon Kyurem, Cobalion, Terrakion, Virizion and Keldeo--but that's only a few of the many cool pokemon that will be featured. Of course, humans Ash Ketchum, Cilan and Iris will also star in the film. Gotta catch 'em all!

Air date: July 27
Code Geass: Nunally in Wonderland is a retelling of the classic Alice in Wonderland story. Lelouch and Nunally will keep their original personas, but appear as the Mad Hatter and Alice. And who will be the Chesire Cat Why, C.C. of course! Marianne will star as well, as the powerful Queen of Hearts. This film is guaranteed to be a unique and clever idea. With all the fairytale retelling these days, there seems to be a lot of Snow White and not very much Alice aside from the Tim Burton film. For fans of anime, this is sure to be fun--a parody of a classic tale is not to be missed.

Air date: October 27 (originally, August)
We thought we would be able to see Resident Evil: Damnation this August, but it turns out we're going to have to wait until October. Oh well, perhaps it's worth the wait! Directed by Makoto Kamiya, this film has all the elements of a great horror/post-apocalyptic story: violence, fear, and bio-organic weapons used in Eastern Europe. I'm getting chills already--can you wait to see what butt-kicking stunts Leon S. Kennedy pulls out next?
Air date: August 11, 2012
On a more adorable note, get ready for Jewelpets the Movie: Sweets Dance Princess. Starring seven-year-old Japanese singing and acting star Mana Ashida, this is bound to be a great film for kids. It stars Ruby the Jewelpet and her friends, who have come to see Princess Mana (Ashida) for her seventh birthday. But everything changes when a mysterious Sweetspet named Gumimin falls from the sky and joins their group! Seriously, could this get any cuter?

Air date: July 18
Naruto 6: Road to Ninja is the ninth overall Naruto film and sixth Naruto: Shippūden film which will be released on July 18, 2012 in Japanese theaters. In this film, Naruto, a sixteen-year-old boy with a demon creature's essence inside him, must protect the city that was once threatened by the creature dwelling within him--from an even more sinister threat. Members of the Akatsui are attacking the village, and more mysterious...many people who were presumed dead are showing up alive. This film is bound to be a little spooky, and a whole lot of thrilling.
Air date: August 22
Persona 4 The Animation: No One is Alone is a bonus tenth episode that will be released with the tenth blu-ray volume of Persona 4 The Animation. The episode will adapt the ending from the original PS2 game. It will feature Kuma, Tohru Adachi, Yukiko Amagi and Yosuke Hanamura--others too, but we don't know that much yet!

Air date: August 23
Mysterious Girlfriend x OVA will come with the ninth volume of the manga. Stay tuned for August 23!
Which new anime are you most excited to see?
---
---
Ad blocker interference detected!
Wikia is a free-to-use site that makes money from advertising. We have a modified experience for viewers using ad blockers

Wikia is not accessible if you've made further modifications. Remove the custom ad blocker rule(s) and the page will load as expected.