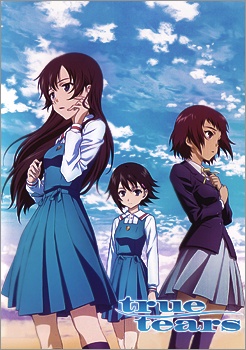 ---
---
Genre:

Drama , Romance 

Tags:

School 

Media:

Anime, Manga, Visual Novel, Live Action, TV drama, Game, Audio Drama
True Tears (トゥルーティアーズ, Turū Tiāzu) is a Japanese visual novel developed by La'cryma, a collaboration between Broccoli, Circus, GameCrab and Rei Izumi, and was originally released on March 31, 2006 for the PC as a DVD in Japan rated for everyone, followed by a Hong Kong and Taiwanese release on March 31, 2007. A PlayStation 2 version was first announced to be released on March 13, 2008, but was later delayed for an August 7, 2008 release.
True Tears has made several transitions to other media. A manga adaptation illustrated by Japanese artist Asaki was first serialized in the Japanese magazine Comi Digi (later Comi Digi +) between December 10, 2005 and August 21, 2006. A thirteen-episode anime was created by P.A. Works and aired in Japan between January 6, 2008 and March 30, 2008, but has little in common with the visual novel other than the name. Two Internet radio shows, two drama CDs, and a live action drama adaptation have also been produced.
True Tears is also a Japanese anime television series produced by P.A.Works and directed by Junji Nishimura. The anime aired in Japan on the TV Kanagawa television network between January 6, 2008 and March 30, 2008, containing thirteen episodes. The anime shares almost nothing in common with the visual novel of the same name that preceded it, using an entirely different story with different characters, and a different art style. An Internet radio show hosted by three voice actresses from the anime was also produced to promote the anime. The anime has been released by Bandai Entertainment in an English subtitle-only box set. A Blu-ray box set released in Japan contained an extra three-minute epilogue.
Shinichiro is a student living in what would be a dream come true for most high school boys, but for him is mostly a frustration. A well liked girl in school named Hiromi has lived in his house for a year along with his family. Her father was a close friend of the family, and when he died they immediately took her in. She is popular and well liked, always smiles, is talented in sports- but Shinichiro knows there must be tears inside her. Having an artistic tendency, he makes watercolours of her and thinks about wishing to ease her tears. Yet he cannot bring up the nerve to talk to her even in his own home. She, too, is quiet and withdrawn in their house, quite unlike at school. Shinichiro is also distracted by teasing from his friend Nobuse for watching Hiromi from afar, a curse of bad luck from a strange girl named Noe, and being forced to perform Muhiga dancing. By helping Noe he hopes to ease his own problems, yet he seems to have difficulty helping himself.
External Links
Edit
Other Sources
Edit
Other Wikis
Edit
References
Edit