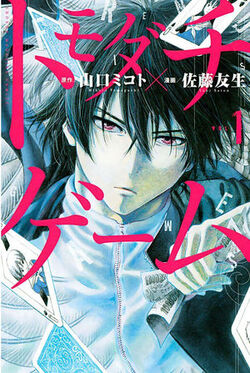 ---
---
Genre:

Drama , Mystery , Psychological , Supernatural 

Tags:

Media:

Manga, Film, TV drama
Tomodachi Game (トモダチゲーム) is a manga written by Yamaguchi Mikoto and illustrated by Satou Yuuki.
Katagiri Yuichi believes that friends are more important than money, but he also knows the hardships of not having enough funds. He works hard to save up in order to go on the high school trip, because he has promised his four best friends that they will all go together. However, after the class's money is all collected, it is stolen! Suspicion falls on two of Yuichi's friends, Sawaragi Shiho and Shibe Makoto. Soon afterward, the five of them are kidnapped, and wake up in a strange room with a character from a short-lived anime. Apparently, one of them has entered them into a "friendship game" in order to take care of their massive debt. But who was it, and why did they have such a debt? Could they have stolen the money from class to pay for entry into the game? Katagiri and his best friends will have to succeed in psychological games that will test or destroy their faith in one another
External Links
Edit
Other Sources
Edit
Other Wikis
Edit
References
Edit
Ad blocker interference detected!
Wikia is a free-to-use site that makes money from advertising. We have a modified experience for viewers using ad blockers

Wikia is not accessible if you've made further modifications. Remove the custom ad blocker rule(s) and the page will load as expected.