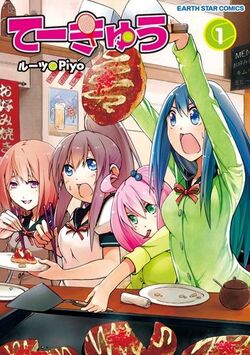 ---
Teekyuu Wiki
Wiki founding
: February 17, 2015
Page count
: 12
Last checked
: July 18, 2017
---
Teekyu (てーきゅう, Tēkyū) is a manga series serialized in Earth Star Entertainment's Comic Earth Star since February 2012. The manga has been adapted into an anime television series, which has been running since 2012.
Teekyu also had a spinoff comedy manga series, also serialized in Comic Earth Star, named Takamiya Nasuno Desu! (高宮なすのです!), translated as "I am Takamiya Nasuno!" (full name Takamiya Nasuno Desu! ~Teekyu Spinoff~ (高宮なすのです!〜てーきゅうスピンオフ〜)), featuring one of the main characters of Teekyu in her own adventures. It has had two tankōbon releases, and also received a 12-episode anime adaptation in 2015.
Another spin-off manga series named Usakame (うさかめ) which features the Tennis Club's opponents was released in 2015. It has had three tankōbon releases so far, and also received a 12-episode anime adaptation in 2016.
The four girls of the Kameido High School tennis club play and don't play tennis in their side-splittingly funny daily lives. The new club member, Yuri Oshimoto, is forced to be the straightman to her idiotic upperclassmen. Then there's Kanae Shinjou, the stupidity-machine who can't play tennis even though she's in the tennis club; Marimo Bandou, the unpredictable super-pervert from Kansai; and Nasuno Takamiya, the air-headed, mysterious rich girl who tries to solve everything with money.
External Links
Edit
Other Sources
Edit
Other Wikis
Edit
References
Edit