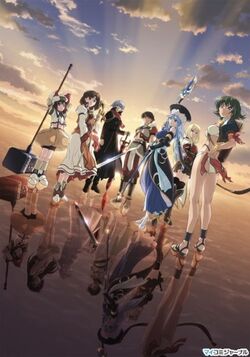 ---
Tears to Tiara Wiki
Wiki founding
: October 22, 2010
Page count
: 35
Last checked
: July 26, 2017
---
Tears to Tiara is a Japanese eroge tactical role-playing game developed by Leaf. It was first released for PC on April 28, 2005 in Japan. Then it was followed by 12 years old and up version released for the PlayStation 3 platform on July 17, 2008 in Japan, Hong Kong, and Taiwan in which the pornographic content was removed.
The PlayStation 3 remake entitled Tears to Tiara: Kakan no Daichi (ティアーズ・トゥ・ティアラ -花冠の大地-, Tiāzu to Tiara: Kakan no Daichi, lit. "Tears to Tiara: Earth's Wreath") was released on September 17, 2009 which contained several enhancements and additional scenarios including new character designs and changed the original 2D gameplay to 3D.
The game draws heavily from Welsh, Celt, Christian and Roman mythology, with characters named Arawn, Arthur, Epona, Llŷr, Morgan, Pwyll, Rhiannon, and Taliesin. Set in a Late Antiquity-inspired fantasy setting, story starts on an island Erin (or Hibernia, as shown on an in-game map) on the west border of the Holy Empire.
Prologue is centered around the precognition-gifted priestess of the Gael tribe, Rhiannon. She is kidnapped by a rogue priest of the Holy Empire, Drwc, to be used as a sacrifice in a ritual meant to resurrect the Demon King Arawn and put Drwc in his favor. As a response the Gael people burn their village and swear to bring Rhiannon back or exact revenge on the Empire. In the middle of the ritual, as the Gael people attack Drwc's soldiers, Arawn is resurrected and offered Rhiannon. At this point, he kills Drwc, frees Rhiannon, and proclaims no intention in wreaking havoc which the legends attributed to him. Instead, he shows interest in Rhinannon's brother Arthur, the First Warrior of his tribe. Rhiannon, on the other hand, falls in love with Arawn, and by declaring her decision to marry him, makes him the chieftain of the Gael tribe (hers and Arthur's father was the previous chieftain, but Arthur could not assume the title due to being the First Warrior).
As the prologue ends, point of view is switched from Rhiannon to Arawn, revealing him to be the protagonist of the game, and the story continues with the exodus of Gael tribe to the neighboring island of Albion (or Insula Britannica, as shown on an in-game map) in hope of eluding the Empire.
External Links
Edit
Official Links
Edit
Other wikis
Edit
w:c:AquaPlus - Created November 14th 2012. Has 27 pages and is about the company that made the series.
References
Edit