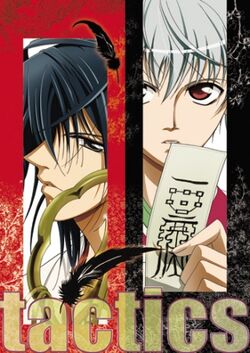 ---
Tactics Wiki
Page count
: 11
Last checked
: July 17, 2017
---
---
Tactics (タクティクス, Takutikusu) is a manga series written as a collaboration between Sakura Kinoshita and Kazuko Higashiyama. It was serialized in Comic Blade Masamune. While the manga was previously licensed for English release in paperback by both ADV Manga and Tokyopop, the manga was only available in English in digital format on JManga for two years before it was no longer accessible.
The animation studio Studio Deen adapted the Tactics manga into a 25-episode anime series, which ran from October 5, 2004 to March 29, 2005. The English dub of the anime was distributed by Manga Entertainment in the United States, Canada and the United Kingdom.
Set in Japan during the Taishō period (in the anime, the manga is set during the late Meiji period), Tactics is the story of Kantarou Ichinomiya, a young man with the ability to see youkai and other mythical beasts. When he was a child, this ability resulted in him being ostracized by humans. His youkai friends told him that in order to be stronger, he must find the oni-eating tengu. The young Kantarou then vows to find it and name it. By naming one, a human becomes master and the name contract is only broken if the master chooses. As Kantarou grows up, he finds a career as a folklorist and a part-time exorcist, alongside his youkai friend Yoko. An assignment leads Kantarou to a mountain where a shrine marks the place where the tengu had been sealed away. Calling upon the tengu by the name Haruka, Kantarou breaks the seal and becomes Haruka's master. As time goes on, Kantarou, Yoko, and Haruka develop a close friendship. However, this relationship is threatened by Haruka's returning memories and his yearning to know more about his past.
External Links
Edit
Other Sources
Edit
Other Wikis
Edit
References
Edit