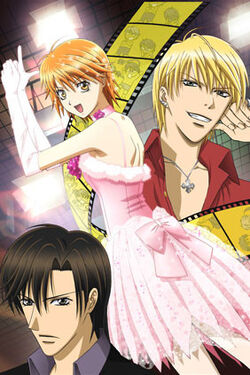 ---
Skip Beat! Wiki
Wiki founding
: September 30, 2009
Page count
: 690
Last checked
: December 18, 2015
---
Skip-Beat! (スキップ・ビート!, Sukippu Bīto!) is a Japanese shōjo manga series by Yoshiki Nakamura which has been serialized in Hakusensha's Hana to Yume since 2002. In the United States, it began publishing under Viz Media's Shojo Beat label in 2006.[1] An anime adaptation is produced by Hal Film Maker, and began airing October 5, 2008. It ended airing with episode twenty-five on July 12, 2009. Along with that, a visual game adaption of the series have also been developed based on the anime and in 2012, a live-action drama adaption was released.
The manga series is still on-going with 37 Volumes and more than 200 chapters.
The story revolves around girl named Kyoko Mogami who went with her childhood friend, Sho Fuwa, to Tokyo to pursue his dream of becoming an idol. Kyoko supported Sho by working three jobs at once everyday. Fate happened when Kyoko overheard Sho saying that he only bought her to Tokyo to use her as a maid. Furious, Kyoko joins LME, the agency where Ren Tsuruga (who is Sho's rival and the number one actor in Japan works), in hopes of achieving her goal on getting revenge on Sho. Along the way, she discovers her self, meet new people and find herself in situations she'd never expect to be in.
Main Characters
Edit
Kyoko Mogami - Her joyful personality has a hidden past, she used to dedicate all her life to Sho Fuwa. But when she finds that Sho has been betraying her all along, her angry and vengeful spirits escaped her "Pandora's Box". She vows to get revenge and Sho says that the only way to do that is to go into showbiz thus joins Sho's rivaling agency LME, with only one goal in mind: Revenge!
Ren Tsuruga - He is an actor working for the entertainment company LME. He is also Japan's most desirable man.
Sho Fuwa - He is one of the best musicians in Japan. Sho keeps his real name a secret because he finds it very old-fashioned and traditional.
External Links
Edit
References
Edit
Ad blocker interference detected!
Wikia is a free-to-use site that makes money from advertising. We have a modified experience for viewers using ad blockers

Wikia is not accessible if you've made further modifications. Remove the custom ad blocker rule(s) and the page will load as expected.