Sket Dance
Talk

0
1,185pages on
this wiki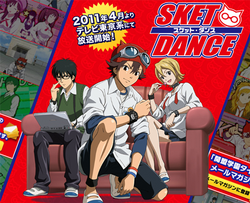 ---
Sket Dance Wiki
Wiki founding: October 31, 2010
Page count: 844

Last checked
: May 17, 2013
---
Sket Dance (スケット・ダンス, Suketto dansu) is a manga series written and illustrated by Kenta Shinohara which has been serialized in Weekly Shōnen Jump since 2006. An anime adaptation began on April 7, 2011.
"Worries, troubles, no matter what, tell us!! We will become your helpers!!"
The manga focuses on the misadventures of the "Campus Support Group" or Sket Dan, of Kaimei High School, a club devoted to solving any and all problems brought to it by the staff or student body for the general improvement of campus life. Due to its general lack of meaningful assignments and unglamorous 'group of handymen' reputation, the organization is treated with widespread contempt and it is composed of only three members.
The series is told through a series of short, self-contained stories focusing on cases undertaken by the Sket Dan, usually told in the space of one to two chapters. Cases to date focus on a variety of issues from more humorous cases like chasing monkeys around the school to more serious cases like dealing with near-terminal illness.
Characters from previous cases also often make cameos in later ones and recurring storylines, such as the Sket Dan's rivalry with the school's student council.
Main Characters
Edit
Yūsuke Fujisaki - (CV: Hiroyuki Yoshino) the leader of the Sket Dan. His special abilities include extreme concentration and excelling at art. Nicknamed Bossun.
Hime Onizuka - (CV: Ryōko Shiraishi) the brawn of the Sket Dan. A former delinquent who wields a field hockey stick and has a love for bizarrely-flavored candy. Nicknamed Himeko.
Kazuyoshi Usui - (CV: Tomokazu Sugita) the brains of the Sket Dan. An otaku with a huge information network who only speaks via a speech synthesis program on his computer. Nicknamed Switch.
Recurring Characters
Edit
Shinzō Takemitsu - (CV: Kenta Miyake) a self-styled modern-day samurai who paradoxically has a love of cellphones and video games.
Roman Saotome - (CV: Ai Kayano) a girl obsessed with shōjo manga, even to the point of narrating her own life and viewing her surroundings as being from one.
Tetsuji Chūma - (CV: Jōji Nakata) the Sket Dan's club advisor. A laid-back chemistry teacher who often creates concoctions with disastrous results.
Dante - (CV: Takashi Kondō) the lead singer of a visual kei band who has such a strange way of talking that it is nearly impossible to understand his meaning.
Momoka Kibitsu - (CV: Marina Inoue) a former delinquent who ends up becoming a seiyū, an actress, and an idol.
Saaya Agata - (CV: Kana Hanazawa) she is Sojiro's little sister who has a typical tsundere personality.
Sōjirō Agata - (CV: Tomokazu Seki) the student council president. A seemingly laid-back guy with a 160 IQ who is secretly rather devious.
Sasuke Tsubaki - (CV: Hiro Shimono) the student council vice-president and a strict enforcer of school rules. A judo black-belt who often ends up resorting to violence to get his point across.
Mimori Unyū - (CV: Megumi Takamoto) the student council treasurer. The daughter of a wealthy family, she comically has no sense of monetary value and often makes use of solid gold items in everyday situations.
Kikuno Asahina - (CV: Yū Kobayashi) the student council secretary. A girl with a menacing expression who has a habit of viciously poking people in the eyes. Nicknamed Daisy.
Michiru Shinba - (CV: Kenji Nojima) the student council manager of general affairs. The resident ladies' man who has looks, charm, excellent cooking skills, and an intense weakness to even the smell of alcohol. singer.
External Links
Edit
Other Sources
Edit
Other Wikis
Edit
References
Edit