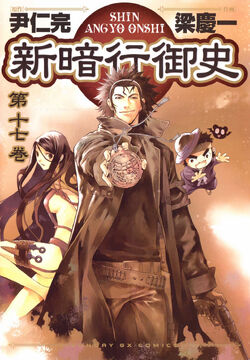 ---
Shin Angyo Onshi Wiki
Wiki founding
: May 1, 2009
Page count
: 23
Last checked
: June 18, 2017
---
---
Blade of the Phantom Master (新暗行御史, Shin Angyō Onshi, 신암행어사 Shin amhaengosa), translated as "New Royal Secret Commissioner", is a serial manga-manhwa and animated film created by Youn In-wan and illustrated by Yang Kyung-il. The series takes place in a world reminiscent of ancient Korea, and follows the Korean-folktale-inspired adventures of Munsu, one of the few remaining guardians against corruption and tyranny, as he seeks to find those responsible for the destruction of his country. It was serialized from 2001 to 2007 in South Korea (as Shin amhaengosa) and in Japan (as Shin Angyō Onshi), and was adapted into an animated theatrical-release film in 2004 in a first-of-its-kind collaboration between Japan and South Korea. In 2007, an English-language version of the film was released in the United States by ADV Films under the title, Blade of the Phantom Master.
Blade of the Phantom Master takes place in the fictional land of Jushin, modeled after feudal Korea. In Jushin, there once lived secret government agents called the amhaeng eosa (or angyō onshi in the Japanese version), who traveled the countryside in disguise. They were charged by the king with finding and punishing corrupt government officials, and bringing justice to the country's citizens.
At the start of the series, Jushin has been destroyed, fractured into numerous fiefdoms and kingdoms, many of which are ruled by corrupt and tyrannical warlords. Blade of the Phantom Master follows the adventures of one of the remaining amen osa, Munsu, as he continues to wander the countryside and deals with the chaos caused by Jushin's fall.
Though initially episodic in nature, it becomes apparent as the series progresses that Munsu's travels are not random. In truth, Munsu is searching for the man responsible for assassinating his best friend, the king of Jushin, an act that led to the fall of the country.
But as Munsu grows closer to reaching his goal, he encounters old friends and comrades from his past, some who have since switched their allegiance to his enemy. Through them, it is revealed that Munsu was not always an amheng osa and is himself partly responsible for the king's death and subsequent fall of Jushin.
In addition to the overarching plotline, the series also uses the exploits of Munsu and his companions to retell various Korean folk stories.
External Links
Edit
Other Sources
Edit
Other Wikis
Edit
References
Edit