Ryōgo Narita

Ryohgo Narita (

成田 良悟

, Narita Ryōgo)
Personal
Birthdate
May 30, 1980
Gender
Male
Nationality
Japanese
Occupation
Writer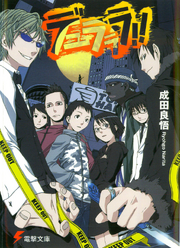 Ryōgo Narita (成田 良悟, Narita Ryōgo) is a Japanese light novelist. He won the Gold Prize in the 9th Dengeki Novel Prize for Baccano!, which was made into a TV anime in 2007. His series Durarara!! was also made into a TV anime, which began airing January 2010.
Light novel series
Edit
Baccano!
Vamp
Durarara!!
Etsusa Ōhashi
Hariyama-san
He will also write the third Bleach novel.
Ad blocker interference detected!
Wikia is a free-to-use site that makes money from advertising. We have a modified experience for viewers using ad blockers

Wikia is not accessible if you've made further modifications. Remove the custom ad blocker rule(s) and the page will load as expected.