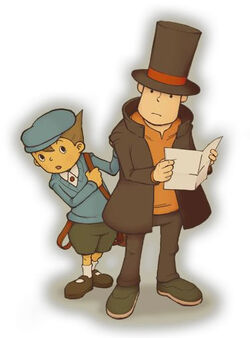 ---
Layton Wiki
Wiki founding
: December 29, 2008
Page count
: 2,381
Last checked
: December 2, 2017
---
The Professor Layton series ("Reiton-kyōju series" (レイトン教授シリーズ) is a puzzle video game series for the Nintendo DS, currently consisting of four games with at least two more to come. An anime film, called Professor Layton and the Eternal Diva, was produced by Masakazu Kubo, who is mainly known for producing the Pokémon films and animated by P.A. Works, the same company that develops the animated cutscenes for the games. It contains an original story, separate from the game series, and taking place after the events of The Specter's Flute. It has been a general success in both Japan and Singapore where the movie was released. Another film is due for 2010/2011.
The series has also spawned a manga intended for child audiences has been serialized since the February 2008 special edition of Bessatsu CoroCoro Comic. The title of this manga is Professor Layton and the Cheerful Mystery (レイトン教授とユカイな事件, Reiton-kyōju to yukai na jiken), covering many mysteries in the story. Whether or not the manga will be localized in other countries remains to be seen.
Each title is based in a series of puzzles and mysteries given by the citizens of towns that the main characters visit. It is not necessary to solve all the puzzles to progress, but some are mandatory and at certain points in the game a minimum number of puzzles must be solved before the story will continue.
In the anime film Layton receives a record in the mail from a famed opera singer, Jenis Quatlane. Layton remind Luke of their adventure with her, and the flashback begins. After the events of Professor Layton and the Specter's Flute, Layton receives a letter from a former student of his, Jenis Quatlane. Jenis writes that she is performing at an opera house called the Crown Petone, and there have been many strange things happening. In addition, two young girls from the London area have been reporting missing, and Jenis thinks its related to the strange things happening at her theatre. She includes two tickets, Layton and Luke attend, while Remi decides to stay back in London with Doctor Schrader in search of the missing girls. Layton and Luke arrive as the enormous Crown Petone theatre which was built on the Atlantic Ocean. Layton and Luke take seats in the front row, and enjoy the opera. After its over, Layton and Luke begin to clap, but the rest of the audience seems bored. Then, as the stage is cleared, a masked man comes out and begins talking about the Eternal Life. He says, we will all play a game, and whomever wins, will get the Eternal Life. Inspector Clamp Groski then goes to make an arrest on the masked man, to see the stage fall apart beneath him, dropping him into the ocean. The masked man then reveals the losers will die. The audience breaks into a mass panic, and its up to Layton and Luke to stop the masked man.
External Links
Edit
Other Sources
Edit
Other Wikis
Edit
References
Edit