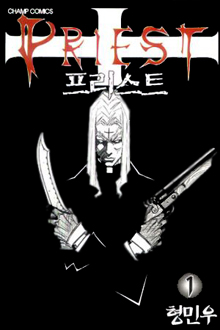 ---
Priest Wiki
Wiki founding
: February 1, 2011
Page count
: 74
Last checked
: June 17, 2017
---
---
Genre:

Tags:

Suspense 

Media:

Film, Live Action, Manhwa
Priest is a manhwa series created by Hyung Min-woo. The manhwa was adapted into the 2011 American horror film of the same name.
Priest tells the story of humanity's battle against 12 fallen angels. Despite having fought for God in the battle against Lucifer, Temozarela and his cohort shortly thereafter found that God had lost interest in them. Upon finding God has focused his attention on humans they decide to rebel against God in light of God's favoritism towards the human race. They descend upon Earth to 'play God' among the humans who build a temple and statues for them. For their rebellion and acts against humanity, God destroyed their temple and their statues were cast underground, with their souls being trapped within the statues.
Centuries later, there lives a Holy Knight called Vascar De Gullion, a killer of heretics in the Name of God. After his wife and children were burned alive, Vascar De Gullion 'loses faith' and wanders the earth in a 'blood rage,' leaving a wake of slaughter wherever he goes. His journey comes to an end when he discovers a hidden cave with the statues of the 12 fallen angels. Temozarela talks Vascar De Gullion into giving his body to him in the hopes of exacting his revenge on God.
It is again centuries later that Vascar De Gullion is found alive and sentenced to be judged as a Heretic by Betheal, a powerful priest. Upon dealing with Vascar De Gullion, Betheal discovers from Vascar De Gullion that he is not who he is meant to be, but rather Temozarela. Temozarela plays with Betheal's only pride and joy in life, a child he saved from a heretic sacrifice. The fallen angel manipulates the child into brutally slaughtering a young woman, taking her arms and heart, and setting up a blasphemous ritual room with her blood. Once Betheal sees what his child had done and sees Temozarela laughing, he ends up killing the child with his own hands. Betheal loses faith in God and Temozarela takes Betheal under his wing as one of his disciples. Instead of turning in favor of Temozarela, Betheal acts as the Judas in this story, betraying Temozarela. Betheal devotes his life to studying a way to trap Temozarela so that people can be free from him. This came in heretic invention of the Domas Porada. Betheal's body is needed to be the key in keeping the lock on this 'cage' locked. With his soul trapped inside the Domas Porada, Betheal enters a new life altogether with the power he gained from turning away from God. He is a now a kind of demon, called Belial.
Ivan Isaacs, the hero, is called upon to solve the puzzle that the Domas Porada presents. Upon solving it Ivan is cast onto a cross after witnessing his only love, Gena, die in his arms. It is then that Belial takes Ivan, who in the madness of losing Gena denounces God. Ivan is reborn as an immortal serving Belial. Because of Gena's death Ivan devotes himself for vengeance against Temozarela and his men.
The Priest story spans three distinct time periods; modern times, the Crusades and the Wild West, although it is primarily focused on the last period. Whilst featuring a large cast of heroes, anti-heroes and villains, a number of which enjoy in-depth and detailed character development within the plot, the lead antagonist of Priest is Temozarela, whilst the main protagonist is Ivan Isaacs, a now immortal 19th century priest, in the pursuit of revenge and redemption after unwittingly unleashing Temozarela from the Domas Porada.
External Links
Edit
Other Sources
Edit
Other Wikis
Edit
References
Edit