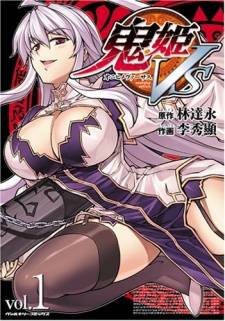 ---
Onihime VS Wiki
Wiki founding
: August 21, 2012
Page count
: 6
Last checked
: July 15, 2017
---
Wiki is Adoptable
---
Onihime VS (鬼姫VS, Onihime Vāsasu lit. "Demon Princess VS") is a Japanese-Korean manga series written by Dall-Young Lim and illustrated by Soo-Hyun Lee, both who are known for the Korean manhwa Unbalance Unbalance and the light novel The Phantom King. The series revolves around Setsuna Kashiwagi, a Japanese high school student with a chronic heart problem who inadvertently makes a deal with an Oni for 10 million yen in exchange for his life in a year. He is soon met by Kanna and Rena, two princesses of the Royal Oni Clan who act as bodyguards to protect his heart from other Oni in exchange for one of them eating his heart after the year has passed.
Onihime VS debuted in the special "Hard" issue of Kill Time Communication's male-oriented manga magazine Comic Valkyrie,[1] and began regular serialization in Comic Valkyrie afterwards. The first bound volume was released on September 30, 2008, with a total of three volumes available in Japan as of August 25, 2010. The series had a long hiatus from July 27, 2010 to January 27, 2012, resuming serialization in Comic Valkyrie following the finale of Unbalance Unbalance.[2][3]
Setsuna Kashiwagi's only desire is for his sister to live a happy life. Weak, frail, and constantly bullied, Setsuna believes he is nothing but a burden to his sister and decides to take his own life. As he prepares to jump off a bridge, a mysterious man appears and presents him with an unusual offer. He offers 10 million yen in exchange for Setsuna's life. If he accepts the contract, after one year, Setsuna will end his life in a manner the man chooses. Skeptical at first, Setsuna accepts. The next morning, thinking it was all just a dream, Setsuna awakens to find two beautiful women sitting beside him. They are Kanna and Rena, Oni princesses who have come to protect Setsuna. The catch: one of them will consume his heart in one year.
External Links
Edit
Other Sources
Edit
Other Wikis
Edit
References
Edit
↑ "コミックヴァルキリー Hard (ハード) 2007年 11月号 [Comic Valkyrie Hard Vol.1]". Amazon.co.jp. http://www.amazon.co.jp/dp/B000XA8KPO/

. Retrieved October 28, 2011

.

 

↑ "コミックヴァルキリー Vol.25 [Comic Valkyrie Vol.25]". Kill Time Communications. http://www.comic-valkyrie.com/modules/valkyrie/vol25.html

. Retrieved October 27, 2011

.

 

↑ "コミックヴァルキリー Vol.36 [Comic Valkyrie Vol.36]". Kill Time Communications. http://www.comic-valkyrie.com/modules/valkyrie/vol36.html

. Retrieved January 20, 2012

.

 
Ad blocker interference detected!
Wikia is a free-to-use site that makes money from advertising. We have a modified experience for viewers using ad blockers

Wikia is not accessible if you've made further modifications. Remove the custom ad blocker rule(s) and the page will load as expected.