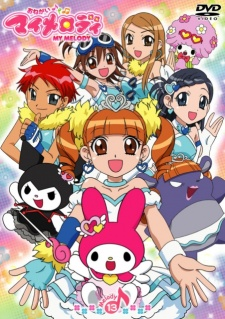 ---
Please My Melody Wiki
Wiki founding
: October 5, 2010
Page count
: 20
Last checked
: July 25, 2017
---
---
Genre:

Tags:

Media:

Anime, Film
Onegai My Melody (おねがいマイメロディ, lit. "Please My Melody") is a Japanese anime series based on the Sanrio character, My Melody. Produced by Studio Comet, it ran 3 April 2005 to 26 March 2006 on Animax, TV Osaka and TV Tokyo, spanning 52 episodes. A sequel, Onegai My Melody ~Kuru Kuru Shuffle!~, ran 2 April 2006 to 23 March 2007. With its next sequel, Onegai My Melody Sukkiri♪, each episode was cut to 10 minutes. That series was followed by a third sequel, Onegai My Melody Kirara★, which ran April 2008 to March 2009. This series was aired across Japan by TV Osaka and TV Tokyo. The anime franchise ultimately ended on March 30, 2009, and was replaced with the Jewelpet anime in its timeslot. On December 11, 2011, United States-based anime distributor Funimation Entertainment set up a forum on its website gauging consumer interest in potential anime acquisitions. One title that was being requested was the first Onegai My Melody series. On February 5, 2012, Sanrio announced that a Onegai My Melody theatrical release named Onegai My Melody: Yū & Ai was in the works.
Kuromi and Baku are imprisoned in a dungeon in Mari Land. They escape along with the Melody Key and the Melody Bow, but in their haste, forget the instruction manuals. They flee to the human world and shortly after arriving, Kuromi discovers the power of the Melody key: it makes wishes come true but in a twisted, nightmarish sort of way. If the person who wishes enjoys the nightmare, he produces one or more black notes, which Baku promptly eats. What neither one of them realize is that when 100 black notes are gathered, the Spirit of Dark Power consumes the dreams of all humanity. Because Mari Land is formed from the dreams of humans, even the incompetent king of Mari Land is able to sense the danger. He gives the Melody Takt to My Melody and sends her to the human world. Her mission is to collect 100 pink notes before Kuromi and Baku can collect 100 black notes. If she can do this, then the Dark Power will be defeated, and both the human world and Mari Land will be saved.
As each series progresses, new tasks fall to My Melody and her friends. In ~KuruKuru Shuffle!~, My Melody must collect Pink Notes while Kuromi must collect the Black Notes so they can fulfill their wishes. In Sukkiri♪, both My Melody and Kuromi are candidates to become the new Princess of Mari Land. Unlike the first three seasons, Kirara★ takes place before Kuromi escapes to the human world. This series revolves around Kirara collecting the missing pieces of the Wishing Star so that she can return to the human world.
External Links
Edit
Other Sources
Edit
Other Wikis
Edit
References
Edit