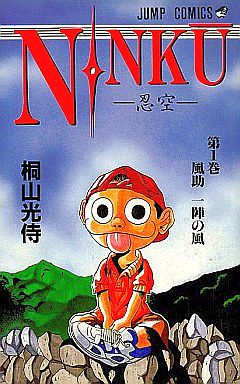 ---
Ninku Wiki
Wiki founding
: August 28, 2013
Page count
: 2
Last checked
: March 27, 2017
---
---
Ninku (NINKU -忍空-, Ninkū) is a Japanese manga series written and illustrated by Kōji Kiriyama. The original manga spanned nine tankōbon volumes and was serialized in Shueisha's Weekly Shōnen Jump manga magazine between 1993 to 1995. A second manga titled Ninku Second Stage: Stories of Etonins (忍空 -SECOND STAGE 干支忍編-) ran from 2005 to 2011 in the seinen magazine Ultra Jump.[1]
Shortly after its release, Ninku was adapted into an anime series, produced by Studio Pierrot and directed by Noriyuki Abe, spanning 55 episodes and a movie. The anime series, originally run between 1995 to 1996, premiered on the Fuji Television network, and was broadcast by the anime television network, Animax, across Japan, Southeast Asia, South Asia, and other regions. Geneon Entertainment has released the series in two DVD boxsets in Japan. The first set containing the initial 28 episodes was released on February 25, 2005 and the second set containing the remaining 27 episodes was released on March 21, 2005.[2]
The anime series spawned a television film, entitled Ninku: Knife no Bohyō (NINKU ナイフの墓標) and released at Jump Super Anime Tour in October 1994,[3] and a movie in 1995, entitled Ninku: The Movie (劇場版 NINKU -忍空-), which was a "double bill" (the other movie being a YuYu Hakusho film) release, produced by Pierrot.[4] Media Blasters's AnimeWorks brand released both movies in their original "double bill" format across North America in 1998.[5] A DVD version was released in early 2001 as a result of a poll conducted by Media Blasters.[6]
A number of video games based on the series have been released for platforms such as the Game Boy, Game Gear, Sega Saturn, and PlayStation. Jump! Ultimate Stars, a fighting game for the Nintendo DS released in November 2006, has three participants from Ninku, including Fuusuke as a selectable fighter.[7]
The story in Ninku is about an odd-looking 12-year-old boy named Fuusuke Fuusuke of the wind who is a powerful warrior from the Ninku school of martial arts, a style that mixes ninjutsu and karate.
It is explained that before the present time in the story that those who could use Ninku were targeted by an evil empire and the Ninku corps were formed to combat the menace. The names of the corps were taken from the twelve Chinese zodiac animals and each captain of the corps was called the zodiac animal Ninku master. Their powers are derived from nature and a specific dragon to their own element, with the Tenkudragon being the almighty master of all the elements. The Ninku were disbanded by their master before the end of the war and as such, the Empire was victorious. After which the Ninku became vilified by the Empire as the perpetrators of the war and made attempts to eliminate any surviving members. At the beginning of the story, three years later, Fuusuke, the young former captain of the 1st Ninku corps and controller of the wind and Hiroyuki, his flatulent penguin, start searching for the other Ninku captains, each of whom can control various elements. However, a new group of Ninku users has arisen and are trying to take over the world. Fuusuke and his penguin must defeat the new Ninku empire with the help of his old comrades.
External Links
Edit
Other Sources
Edit
Other Wikis
Edit
References
Edit
↑ "忍空 : 6年にわたる続編連載が完結 10月号に最終回" (in Japanese). Mantan Web. September 17, 2011. http://mantan-web.jp/2011/09/17/20110916dog00m200068000c.html

. Retrieved March 2, 2013

.

 

↑ "「忍空」DVD-BOX発売のお知らせ" (in Japanese). Studio Pierrot. http://pierrot.jp/title/ninku/dvdbox.html

. Retrieved 2008-11-25

.

 

↑ "『NINKU ナイフの墓標』" (in Japanese). Anime Style. http://www.style.fm/log/07_data/ninku_knife.html

. Retrieved June 9, 2013

.

 

↑ "Media Blasters Poll". Anime News Network. August 29, 2000. http://www.animenewsnetwork.com/news/2000-08-29/media-blasters-poll

. Retrieved 2008-11-25

.

 

↑ "JUMP ULTIMATE STARS" (in Japanese). Nintendo. http://www.nintendo.co.jp/ds/ajuj/character/chara_25.html

. Retrieved 2008-11-23

.