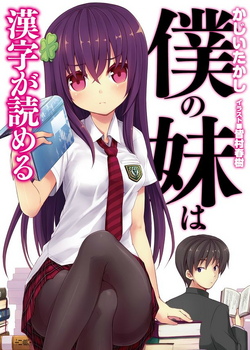 ---
---
Genre:

Tags:

Imouto , Love Comedy , Moe 

Media:
Boku no Imouto wa Kanji ga Yomeru (僕の妹は漢字が読める, lit. "My Little Sister can Read Kanji") is a 5-Volume light novel written by Kajiitakashi. Originally it'd won the 5th HJ Bunko Award Silver Award with the title of Imouto wa Kanji ga Yomeru (妹は漢字が読める, "Little Sister can Read Kanji"), and then published by HJ Bunko from 2011 to 2012.
The year is 2202, and Japan has become the land of moe. Aspiring author Gin Imose and his little sister Kuroha are traveling to TOKYO to meet with the world famous author, Gai Odaira. Kuroha is uninterested in his orthodox literary style, and amazingly is able to read ancient modern Japanese books written in kanji! This fateful encounter sets off a chain of events that could change the course of literary history! Could it be that, long ago, books could be about more than little sisters showing their panties and getting in compromising situations with their non-blood- related older brothers? Impossible! It's hard to even imagine a Japan where everyone could read kanji and the Prime Minister was a 3D human being...
External Links
Edit
Other Sources
Edit
Other Wikis
Edit
References
Edit