Ad blocker interference detected!
Wikia is a free-to-use site that makes money from advertising. We have a modified experience for viewers using ad blockers

Wikia is not accessible if you've made further modifications. Remove the custom ad blocker rule(s) and the page will load as expected.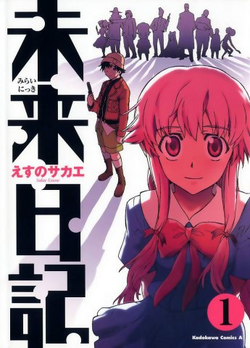 ---
Future Diary Wiki
Wiki founding: January 30, 2009
Page count: 201
Last checked: January 22, 2016

---
Fanon Wiki: Future Diary Fanon Wiki
---
Mirai Nikki (未来日記, lit. Future Diary) is a Japanese manga series written and illustrated by Japanese manga author Sakae Esuno. The manga was first serialized in the Japanese shōnen manga magazine Shōnen Ace on January 26, 2006, and is published by Kadokawa Shoten. As of April 26, 2011, eleven bound volumes have been released in Japan. The manga has been licensed by Tokyopop, and ten of the English volumes have been released, with a release for the last two now uncertain due to Tokyopop ceasing publishing in North America. A "pilot anime" DVD was released with the 11th manga volume in December 2010. A TV anime series animated by Asread will premiere in fall 2011.
Esuno has also authored two side-story manga, each one spanning five chapters: first Mirai Nikki: Mosaic which focuses on another Diary Holder and brings to light otherwise unrevealed plot points of the main story; and in 2009-2010, Mirai Nikki: Paradox (published in Young Ace), which tells the exploits of Aru Akise and Murumuru, filling the roles of Yukiteru and Yuno respectively, attempting to fix a timeline paradox created by Murumuru in an alternate timeline.
Yukiteru always rejected any offers to go with friends and just keeps writing a diary on his cell phone. He has what he believes is an imaginary friend called Deus Ex Machina. However, one day Deus asks him to play a survival game along with eleven others. The winner becomes the next Deus Ex Machina. Each diary holder has a diary with a specific ability that will help them in the survival game(Most in which tell the future in different ways). In order to win, the contestants must use their diaries of the future to eliminate one another. For Yukiteru to survive, he must team up with another diary holder, a girl named Yuno.
Each player is assigned a number based on the order that Deus modified his or her diary. The diaries begin to record the future in the same manner their future selves would have written down events, with some even being able to influence the beings whose future they divulge to the owner; the only exception to this rule is when the holder reaches a Dead End, a time when their lives would be finished without significant intervention. Each diary varies in its properties and functions depending on the owner's personality, occupation and lifestyle and they all have their shortcomings. The diaries can be used without the owner's consent should they fall into another's hands. Since the diaries are written from the perspective of the owner's future self, the future can still be misinterpreted and thus the entries can become inaccurate. In addition to killing someone through normal means, if a diary is destroyed or broken, the owner also dies.
External Links
Edit
Other Sources
Edit
Other Wikis
Edit
References
Edit