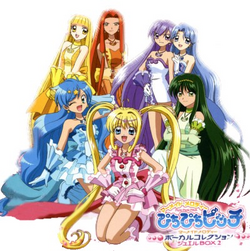 ---
Mermaid Melody Pichi Pichi Pitch Wiki
Wiki founding
: January 29, 2010
Page count
: 91
Last checked
: December 2, 2017
---
Genre:

Adventure , Comedy , Drama , Fantasy , Romance , Shōjo

"Shōjo" is not in the list of possible values (Action, Adventure, Comedy, Drama, Fantasy, Horror, Mecha, Mystery, Psychological, Romance, Science Fiction, Slice of Life, Sports, Supernatural, Yaoi, Yuri, Hentai) for this property.

Expression error: Unrecognised word "span".

Tags:

Musical 

Media:
Mermaid Melody Pichi Pichi Pitch (マーメイドメロディーぴちぴちピッチ, Māmeido Merodī Pichi Pichi Picchi) is a shōjo manga and anime series created by Michiko Yokote, with artwork by Pink Hanamori. The manga was originally published in the monthly shōjo manga anthology Nakayoshi. There are 32 chapters published (including two special stories) and are compiled into seven volumes issued by Kodansha.
The anime series was produced by TV Aichi. The first season of which, composed of 52 episodes, was shown on the TV Tokyo Network from April 5, 2003 to March 27, 2004. A second season, entitled Mermaid Melody Pichi Pichi Pitch Pure, lasted for 39 episodes and was aired from April 3 to December 25, 2004.
ADV Films acquired the license to the anime on June 2004 for its North American release, but was eventually dropped due to difficulty in finding backers and securing a TV airing deal.[1] As of 2009, the anime has been completely dubbed but is being held by TV Aichi. It is unknown if a release will occur. While the anime has not since been re-licensed for an English language distribution, Del Rey Manga acquired the rights to publish the manga for the North American audience. It began releasing the manga on April 2006 under the title Pichi Pichi Pitch: Mermaid Melody.[2]
Luchia, Mermaid Princess of the North Pacific Ocean, sets out to land to find the boy she saved from a shipwreck seven years before the beginning of the story, to whom she had entrusted with her pink pearl. She eventually finds the boy: a surfer named Kaito Dōmoto. But as the human form Luchia assumed, named Luchia Nanami, bears very little resemblance to her mermaid form, Kaito cannot recognize her. She cannot tell Kaito who she really is; otherwise, according to mermaid folklore, she would turn into bubbles. She tries to convince Kaito into figuring out who she really is (since the legend does not say anything about the other person discovering a mermaid's true identity by himself).
At the same time, Luchia has been told that a group of water demons or suiyō (水妖) have invaded the marine world and she must gather the six other Mermaid Princesses and their pearls to bring back the legendary goddess, Aqua Regina, to stop them. To fulfill this, she joins forces with Hanon and Rina, Mermaid Princesses who came up to dry land, use their pearls, turn into singing idols, and use their voices as an offensive power.
External Links
Edit
Other Sources
Edit
Other Wikis
Edit
References
Edit
↑

Script error

↑

Script error