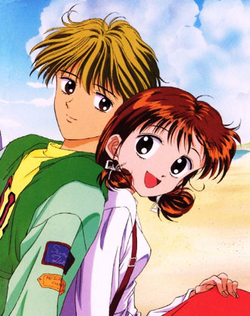 ---
Marmalade Boy
Wiki founding
: September 23, 2010
Page count
: 72
Last checked
: July 15, 2017
---
Marmalade Boy (ママレード·ボーイ, Mamarēdo Bōi) is a shōjo manga by Wataru Yoshizumi. It was published by Shueisha in the magazine Ribon from May 1992 to October 1995 and collected in eight tankōbon volumes. The series was adapted by Toei Animation as a 76-episode anime television series which aired on TV Asahi and Fuji TV in 1994 to 1995. This was followed by a prequel theatrical anime movie in 1995. The series was also adapted as a 30-episode live-action television series that was broadcast in Taiwan in 2002.
The manga was published in English by Tokyopop, which also licensed the anime series. Tokyopop has since lost the license to the manga series, as Shueisha refused to renew it, leaving the releases out of print. They were also unable to renew the license for the first twenty-four episodes of the anime.
Miki Koishikawa's ordinary life as a high school sophomore is turned upside down when her parents suddenly announce that they are getting divorced in order to swap partners with a couple they met in Hawaii. They seek her approval of the shocking change, and at a dinner where Miki meets the other couple as well as their son Yuu, who is about her age, she reluctantly agrees to the arrangement. Yuu, while at first a jerk who takes every opportunity to make fun of Miki, turns out to be fun and attractive, and Miki finds herself falling for him. Little by little, she accepts her new family arrangement, and opens up to Yuu as they become friends.
Miki and Yuu's relationship starts to become complicated because of the previous relationships that they had and developed with other characters. These include Miki's long time classmate and former crush, Ginta Suou, and Yuu's former girlfriend, Arimi Suzuki. A secondary subplot develops when Miki's best friend, Meiko Akizuki, herself starts to have her own problems because of the relationship she has gotten into with one of the teachers, Namura Shin'ichi.
Throughout the series, Miki and Yuu's relationship is further developed and tried, influenced by other characters around them and the relationships that they develop with these characters.
Main Characters
Edit
Miki Koishikawa
Yuu Matsuura
External Links
Edit
Other Sources
Edit
Other Wikis
Edit
References
Edit