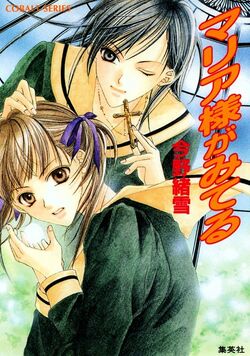 ---
Maria-sama ga Miteru Wiki
Wiki founding
: February 9, 2011
Page count
: 136
Last checked
: June 14, 2017
---
Media:

Anime, Manga, Light Novel, OVA, Live Action, Audio Drama, Guide Book
Maria-sama ga Miteru (マリア様がみてる; lit. "The Virgin Mary is Watching" or Maria Watches Over Us), often shortened to Marimite (マリみて),[1] is a series of Japanese light novels written by Oyuki Konno and illustrated by Reine Hibiki.
The series began as a short story in the February 1997 issue of Cobalt, a shōjo fiction magazine published by Shueisha.[2] The first light novel was published by Shueisha on April 24, 1998, and as of December 2010 the series has grown to 38 volumes.[3] Shueisha has also produced manga and drama CD adaptations; as of 2009 the latter is still ongoing.[4][5] Between January 2004 and March 2009 the series was adapted into a four-season anime produced by Studio Deen. The Right Stuf International has licensed all four seasons through its production arm Nozomi Entertainment, and is releasing them in North America under the title Maria Watches Over Us.[6][7] It has also been adapted into a live-action film that was released in Japan on November 6, 2010.[8]
Maria-sama ga Miteru's story revolves around the students of the Lillian Girls' Academy (a Catholic school),[9] and can be considered character-driven, focusing on interactions between the characters rather than any sort of ongoing plot or goal to attain.[1] At Lillian Girls' School, there is a tradition known as the sœur system (sœur being French for "sister"), in which a second, or third-year student, the grande sœur ("big sister"), will give her rosary to a first-year student, the petite sœur ("little sister"), and promise to look after them and guide them.
When the story begins, Yumi Fukuzawa, a first-year student at Lillian, is praying in front of the Virgin Mary statue near the school entrance when she is suddenly approached by a cold second-year student named Sachiko Ogasawara who straightens Yumi's uniform neckerchief. This seemingly simple act of kindness stays with Yumi the rest of the day, and she speaks of her meeting with Sachiko to her friends during class and lunch. After school is over, Yumi's classmate Tsutako Takeshima meets with Yumi to show her that she took a photograph of Yumi's meeting with Sachiko earlier that morning. Yumi asks if she can have the photo, but Tsutako says she will give her the snapshot under two conditions: one being that Tsutako can display it at the upcoming school festival, and two being that Yumi get Sachiko's permission to do so as well. Yumi agrees to this, which sets in motion a series of events involving the entire Yamayuri Council — the student council of the school. A few weeks after first meeting Sachiko, Yumi accepts Sachiko's rosary and therefore agrees to become her petite sœur.
This officially inducts Yumi into the Yamayuri Council where she assists them in school matters alongside Yoshino Shimazu, and Shimako Tōdō — the petite sœurs of Rei Hasekura, and Sei Satō respectively. Through her activities in the Yamayuri Council, Yumi becomes closer to the other members and generally finds her experiences with the group to be enjoyable.
External Links
Edit
Other Sources
Edit
Other Wikis
Edit
References
Edit