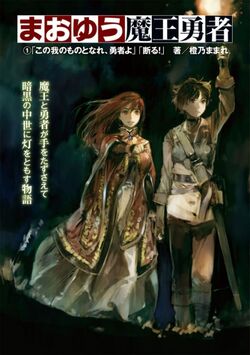 ---
Maoyu Wiki
Wiki founding
: January 5, 2013
Page count
: 54
Last checked
: October 26, 2016
---
Wiki is Adoptable
---
Maoyū Maō Yūsha (まおゆう魔王勇者, Maoyuu Maou Yuusha lit. "Archenemy and Hero", also known as Maoyu and stylized as MAOYU) is a light novel series by Mamare Touno that was initially posted in a play format on the textboard 2channel in 2009. Enterbrain began publishing the light novel in 2010 and has so far released five volumes, selling over 450,000 copies in total. It has received several manga adaptations. In June 2012, Pony Canyon announced that it will produce an anime series based on it. An adaptation by ARMS and directed by Takeo Takahashi began to air on January 4, 2013.
After a long and treacherous journey, our Hero finally arrives at the Dark Lady's castle only to find himself being asked for help. The Hero explains how the war that the demons have brought upon the humans have killed thousands and put more in misery. The queen of demons however argues that this war has made the human society band together as one and showed empirical evidence how it has increased population, increased production, boosted economy and improved society overall. Furthermore, she explains to the Hero that ending this war will result in a civil war that will produce more bloodshed than there ever was. The Hero, convinced that the only way to bring peace, relatively speaking, is to join forces with the Dark Lady, agrees to help with her plans!
Maoyū Maō Yūsha originally began as a story on the Japanese forum 2channel. Eventually, it was published as a novel by Enterbrain in 2010.[1]
External Links
Edit
Other Sources
Edit
Other Wikis
Edit
References
Edit
Ad blocker interference detected!
Wikia is a free-to-use site that makes money from advertising. We have a modified experience for viewers using ad blockers

Wikia is not accessible if you've made further modifications. Remove the custom ad blocker rule(s) and the page will load as expected.