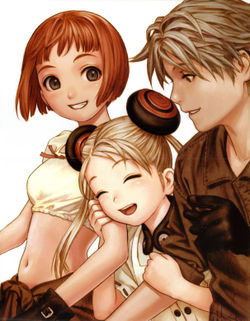 ---
Last Exile Wiki
Wiki founding
: June 18, 2005
Page count
: 321
Last checked
: February 6, 2017
---
Last Exile (ラストエグザイル, Rasuto Eguzairu) is a Japanese animated television series created by Gonzo. It featured a production team led by director Koichi Chigira, character designer Range Murata, and production designer Mahiro Maeda. The three had previously worked together in Blue Submarine No. 6, one of the first CG anime series. Last Exile premiered on TV Tokyo on April 7, 2003 and ran for twenty-six episodes until its conclusion on September 29, 2003.
A sequel series, Last Exile -Fam, The Silver Wing- (ラストエグザイル~銀翼のファム~, Rasuto Eguzairu Gin'yoku no Famu), aired between October 15, 2011 and March 23, 2012. A film adaptation of the series, Last Exile -Fam, The Silver Wing-: Over the Wishes, was released on February 6, 2016.
Prester's two nations of Anatoray and Disith are separated by a turbulent region of the sky known as the Grand Stream and are engaged in eternal conflict according to the code of chivalric warfare. A superior faction known as the Guild enforces these rules. It also provides the two nations with technology but, unknown to them, has dishonorable intentions, to preserve the status quo and enforce its dominance of both sides. Although the story is set in the future, the technology employed differs from that in a typical space opera. Instead, the show's retro-futuristic setting resembles nineteenth century Europe at the height of the Industrial Revolution. Inhabitants of Prester operate aerial vehicles known as vanships in the world's Golden Age of Aviation.
Various scenes in the series also show existing tension between the upper and lower classes. Anatoray's nobility and military officers generally believe that commoners do not understand their codes of chivalry. On the other hand, the lower class also despise the aristocracy for their monopoly on resources. This tension extends to the accessibility of clean water, which varies in price according to purity grades. In the larger story, the advanced Guild society is portrayed as degenerate and lazy, while the people of Anatoray and Disith are creative and industrious.
The series introduces viewers to a wide range of naval and military vocabulary. More primitive navigational methods such as dead reckoning and instruments such as the sextant are also used in the series.
Last Exile: Fam, The Silver WingEdit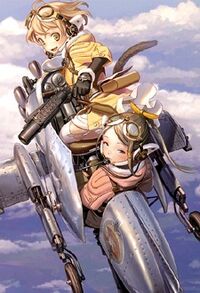 Taking place 10 years after the events of Last Exile, Last Exile: Fam, The Silver Wing is set on Earth, the original home world of the colonists of Prester. The new story focuses on Fam Fan Fan and Giselle Collette, two vespa vanship pilots who work as Sky Pirates, capturing and selling battleships for a living.
Fam and Giselle get into an adventure when they and the Sky Pirates rescue Liliana il Grazioso Merlo Turan and her younger sister, Millia Il Velch Cutrettola Turan, Princesses of the Turan Kingdom, from the clutches of the mighty Ades Federation. The Federation, led by Empress Sārā Augusta and Premier Luscinia Hāfez, is on an all out war against nations who descended from immigrants who came back to Earth by Exile ships. As Ades was the only nation to stay on Earth when it was in a state of chaos and ruin, Luscinia believes that the Exile immigrants have no right to return to Earth since their ancestors abandoned Earth when it was in chaos only to return when Earth was viable to live on again and force the original inhabitants of Earth off their lands to form their own nations. To return these lands to their original inhabitants, Luscinia leads the Ades Federation to conquer the immigrant nations and destroy their armies, with Turan being one of them.
After Luscinia kidnaps Liliana, who has the ability to control an Exile, Luscinia summons an Exile to destroy Iglasia, the capital of Turan, killing its soldiers and the King of Turan, leading to the surrender of Turan to Ades. With everything she cared for lost, Millia is given refuge by the Sky Pirates, where Fam promises to help Millia regain her kingdom.
External Links
Edit
Other Sources
Edit
Other Wikis
Edit
References
Edit
Ad blocker interference detected!
Wikia is a free-to-use site that makes money from advertising. We have a modified experience for viewers using ad blockers

Wikia is not accessible if you've made further modifications. Remove the custom ad blocker rule(s) and the page will load as expected.