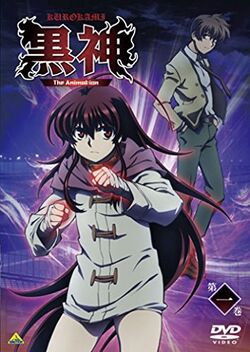 ---
Kurokami Wiki
Wiki founding
: July 14, 2011
Page count
: 26
Last checked
: February 4, 2015
---
Kurokami (黒神, Black God) is a Japanese-Korean manga series written by Dall-Young Lim and illustrated by Sung-Woo Park. Square Enix publishes the manga in Japan's bi-monthly seinen magazine Young Gangan. The story is initially set in modern day Tokyo, then changes to the island of Okinawa in the middle of the story. The word "Black" in the title refers to the character Kuro (黒?), as it means black in Japanese. "God" in the title refers to the fact that Kuro is a superhuman, or "Tera Guardian". In France and other French-speaking countries and territories, the manga goes under the name Kurokami: Black God.
The manga is created entirely by a Korean manhwa team led by both Lim and Park. They would occasionally make fun of the fact that none of them were fluent in Japanese in omake segments drawn at the end of each manga volume.
Black God was among four manga titles licensed by Yen Press along with Zombie-Loan, Alice on Deadlines and Spiral: The Bonds of Reasoning when it was announced by their panel at the 2007 New York Comic Convention. 19 volumes are already released in North America.
It has been adapted into an anime animated by Sunrise, and first aired in Japan and in the United States on January 8, 2009, while South Korea aired it on January 9, 2009.
High school student Ibuki Keita has been haunted by misfortune for as long as he can remember. For no apparent reason, everyone around him dies tragically. Ultimately, he refuses to become too close to anyone, even his childhood friend Akane. This leaves Keita alone in a life full of misery and disgrace.
While eating at his favorite ramen shop one evening, Keita meets a strange young girl named Kuro. Possessing abilities that surpass that of a normal human being, Kuro classifies herself as a Mototsumitama. She explains to Keita about "Terra", a life-energy force split between three identical looking people; a global phenomenon dubbed the "Doppeliner System". As a Mototsumitama, Kuro guards the "Coexistence Equilibrium", the beings that protect the flow of Terra around the world. Keita refuses to believe her story, until he is caught up in the crossfire of this hidden world. On the verge of death, he makes a contract with Kuro, unbeknownst to its true meaning. Now he is bound to Kuro, and must be with her at all times. Could Keita's misfortune possibly get any greater?
External Links
Edit
Other Sources
Edit
Other Wikis
Edit
References
Edit
Ad blocker interference detected!
Wikia is a free-to-use site that makes money from advertising. We have a modified experience for viewers using ad blockers

Wikia is not accessible if you've made further modifications. Remove the custom ad blocker rule(s) and the page will load as expected.