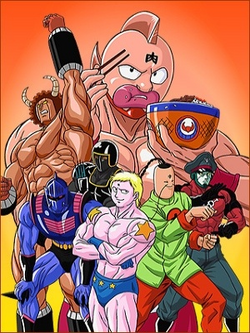 ---
Kinnikuman Wiki
Wiki founding
: September 28, 2007
Page count
: 945
Last checked
: February 13, 2015
---
Kinnikuman (キン肉マン; lit. "Muscleman") is a manga created by the duo of Yudetamago (which literally means "boiled egg" in Japanese), which is composed of Yoshinori Nakai and Takashi Shimada. The manga was published in Shueisha's Weekly Jump, and received the Shogakukan Manga Award for shōnen manga in 1985. An animated series was produced using the Limited animation technique.
Originally created as a parody of Ultraman, Kinnikuman was a clumsy goof of a superhero whose services were only called upon to battle monsters if no other superheroes were around.
Kinnikuman's powers came from eating garlic (ニンニク, ninniku), which would gradually fill the "garlic meter" on his forehead until he could grow into a giant to fight the monsters. His main attack was the "Kinniku Flash" beam.
As Kinnikuman developed, it began focusing exclusively on professional wrestling in which Kinnikuman would wrestle ridiculous parodies of popular Japanese superheroes and their adversaries, including "The Toilet Paper Mummy," a giant hand, and monsters based on things like pachinko machines and telephones. The heroes and villains of Kinnikuman were collectively referred to as "Chōjin," (超人) which literally translates to "Supermen". The majority of the characters were made by fans who sent in chōjin character designs or ideas and were then incorporated into the story in various major and minor roles. Notable examples of main characters created in this manner include Warsman and Brocken Jr.
The story involves Kinnikuman (his real name is Suguru Kinniku), a clumsy fool of a superhero, finding out he is the missing prince of the planet Kinniku, known for turning out the greatest superheroes in the universe. Being a clumsy fool, however, he must prove himself worthy of the throne. To do so, he enters into wrestling competitions and battles evil Chojin, ultimately culminating in a tournament between Kinnikuman and five pretenders to the throne (Kinnikuman Big Body, Soldier, Zebra, Mariposa, and Super Phoenix). Many of Kinnikuman's allies begin as villains (Ramenman, Buffalo Man, Ashuraman, Warsman), and extremely arrogant heroes (Terryman, Robin Mask, Rikishiman).
As the popularity increased, an anime came about.
Merchandise
Edit
Amongst the popular merchandise produced were the "Kinnikuman Keshigomu": erasers made in the shapes of the Kinnikuman characters. The kids were playing with them as toys and called them "Kin-Keshi" for short. They were subsequently marketed as such, and accessories like a wrestling ring were soon to follow.
There have also been numerous Kinnikuman video games, anime, and other toys.
A sequel manga to Kinnikuman, called Kinnikuman II or Kinnikuman Nisei was written by Yudetamago, starring Suguru's son, Mantaro, and currently appears in "Weekly Playboy", a men's magazine published by Shueisha. There have been two "flashback" stories in this manga that feature Terryman and Robin Mask, respectively. Kinnikuman II is known as Ultimate Muscle in most English-speaking countries. Plus after Kinnikuman, there was a spin-off series for the character Ramenman, who was a popular character.
External Links
Edit
Other Sources
Edit
Other Wikis
Edit
References
Edit
Ad blocker interference detected!
Wikia is a free-to-use site that makes money from advertising. We have a modified experience for viewers using ad blockers

Wikia is not accessible if you've made further modifications. Remove the custom ad blocker rule(s) and the page will load as expected.