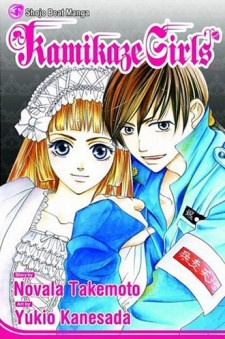 ---
---
Genre:

Comedy , Drama 

Media:

Manga, Light Novel, Film, Live Action
Kamikaze Girls (下妻物語, Shimotsuma Monogatari) is a Japanese light novel written by Novala Takemoto that was adapted into a live-action film and manga.
Momoko is a "Lolita" stranded in the boondocks of rural Ibaraki prefecture, although she'd much rather be living in the Palace of Versailles. Ichigo is an impulsive member of a girls-only biker gang who firmly believes in honor, loyalty, and fist fighting. Together this unlikeliest of duos strikes out on a journey to find a legendary embroiderer who might just be able to make their dreams come true. Inspired by the cult-classic novel of the same name, this exclusive manga edition of Novala Takemoto's Kamikaze Girls contains several brand new stories, including a continuation of Momoko and Ichigo's misadventures that was approved by the author himself!
External Links
Edit
Other Sources
Edit
Other Wikis
Edit
References
Edit
Ad blocker interference detected!
Wikia is a free-to-use site that makes money from advertising. We have a modified experience for viewers using ad blockers

Wikia is not accessible if you've made further modifications. Remove the custom ad blocker rule(s) and the page will load as expected.