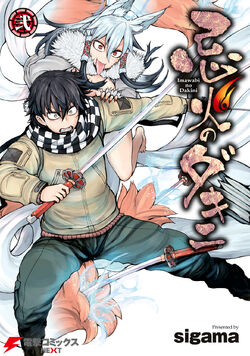 ---
---
Imawabi no Dakini (忌火のダキニ) is a manga series by sigama. It was serialized in Denegki Maoh.
Fushimi and Toume were just a normal boy and girl going to high school until one day they stumble upon a phantasmal mountain known to legend as "Mount Hagure". Before either of them knew it, Toume was possessed by a Yoko named Dakini, a goddess who grants wishes.
When asking what Fushimi's wish is, it is only this: Give Toume back. Dakini says she can grant the wish but in return, he must become her servant. The deal is struck. Fushimi has now become Dakini's servant and Toume has been returned. Darkness, however, is afoot and now Fushimi must take on a more active role as Dakini's servant. Is he up for the task?!
External Links
Edit
Other Sources
Edit
Other Wikis
Edit
References
Edit
Ad blocker interference detected!
Wikia is a free-to-use site that makes money from advertising. We have a modified experience for viewers using ad blockers

Wikia is not accessible if you've made further modifications. Remove the custom ad blocker rule(s) and the page will load as expected.