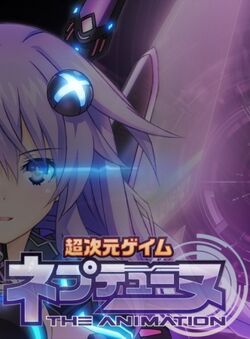 ---
Hyper Dimension Neptunia Wiki
Wiki founding
: February 10, 2012
Page count
: 2,682
Last checked
: January 19, 2018
---
Hyperdimension Neptunia (超次元ゲイム ネプテューヌ, Chōjigen Geimu Neputyūnu, lit. "Super Dimensional Game Neptune") is a video game series of role-playing games created and developed by Idea Factory. The series debuted in Japan on August 19, 2010 with the video game of the same name exclusively for the PlayStation 3, later re-released as an enhanced remake under the name Hyperdimension Neptunia Re;Birth 1 for the PlayStation Vita. Two sequels, Hyperdimension Neptunia Mk2 and Hyperdimension Neptunia Victory, in addition to the remake titles for both of them and three spin-offs on the PlayStation Vita, have also been released. Another sequel on the PlayStation 4, titled Megadimension Neptunia VII, was released in 2015. It has also branched off into a manga, light novel, and anime media franchise series.
A television anime series adaptation, titled Hyperdimension Neptunia: The Animation, aired in Japan between July and September 2013.
"This is Gamindustri. Beings called the Goddesses rule the countries of this unreal world. The four Goddesses govern four states: Planeptune, Lastation, Lowee, and Leanbox.
For many long years, these countries fight each other for Share, the source of the Goddesses' power.
However, fearful that the conflict would pointlessly erode their countries' strength, the Goddesses signed a Friendship Treaty forbidding them from taking the Share by force.
Under the treaty, the Goddesses and their younger sisters took a new stage in their relations.
It was the dawn of a new, dynamic era marked occasionally by shared laughter, disputes as well as cooperation.
What does the future hold in store for Gamindustri?
External Links
Edit
Other Sources
Edit
Other Wikis
Edit
References
Edit