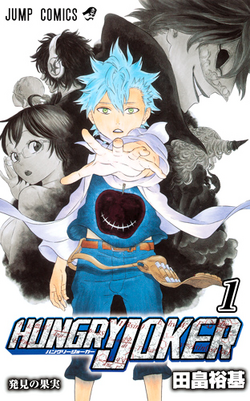 ---
Hungry Joker Wiki
Wiki founding
: October 30, 2012
Page count
: 79
Last checked
: February 11, 2015
---
Hungry Joker (ハングリージョーカー, Hangurī Jōkā) is a manga series written and illustrated by Yūki Tabata (田畠裕基, Tabata Yūki). It was premiered on Weekly Shōnen Jump in its 2012's 50th issue and ended on 2013's 24th issue after 24 chapters published.
One night, a young scientist named Heidi and his assistant, Chitose Toriiooji, receive a request from the police department to assist them on a peculiar case of the discovery of a mysterious glowing corpse.
As Heidi and Chitose analyze the corpse, it starts reacting and transforms into a grotesque looking monster. The situation quickly escalates and Heidi as he has been grievously injured, starts mentioning about the strange Black Apple that he possessed. He then decides to take the chance and bites the apple. After a sudden blood loss, he gained the power to control gravity and easily defeat the monster.
Later on, he finds out through a mysterious figure that his apple is actually a supernatural item known as the Eureka, with his apple is called the Newtonian Apple, and there are more of them exist in this world. Heidi along with his assistant must now race alongside the organization, White Joker, who claims to have a relation with his past, to collect all the Eurekas and prevent the humanity extinction from a terrorist group called Mavro.
Main Characters
Edit
Heidi (ハイジ, Haiji) is a young scientist that was able to awaken the power of his mysterious black apple.
Chitose Toriiooji (鳥居大路千歳(トリーオージ チトセ), Torīōji Chitose) is a university student and the part-time assistant of the young scientist Heidi.
Killed (キルド, Kirudo) is a Mavro who sees Heidi as an interesting human and becomes his fiend.
Case 1: The Apple of Discovery (発見の果実(リンゴ), Hakken no Ringo)
Case 2. A Person Appears from the Unknown (未知から現れた者, Michi Kara Arawareta Mono)
Case 3. Genius vs. God (天才 vs. 神, Tensai Bāsasu Kami)
Case 4. Assistant (助手, Joshu)
Case 5. The Man from the Museum (博物館の男, Hakubutsukan no Otoko)
Case 6. White Joker (ホワイトジョーカー, Howaito Jōkā)
Case 7. Why I Say It (だからこそ言う, Dakara Koso Iu)
Case 8. The Have-Nots (持たざる者, Motazarumono)
Case 9. "Sound" and "Gravity" (〝音〟と〝重力〟, "Oto" to "Jūryoku")
Case 10. The Labyrinth of Mist (霧の迷宮, Kiri no Meikyū)
Case 11. Steel Woman (鋼鉄の女, Kōtetsu no On'na)
Case 12. Searching in the Fog (霧中模索, Muchū Mosaku)
Case 13. The Truth of the Labyrinth (迷宮の真実, Meikyū no Shinjitsu)
Case 14. Grandma (ばあちゃん, Bāchan)
Case 15. Chance Meeting (邂逅, Kaigō)
Case 16. True Colors (正体, Shōtai)
Case 17. Maria's Soldier (戦士の聖母(マリア), Senshi no Maria)
Case 18. Eureka Auction (エウレカオークション, Eureka Ōkushon)
Case 19. What I Desired (欲してるのは, Hoshiteru no Wa)
Case 20. The Black Fruit (黒い果実, Kuroi Kajitsu)
Case 21. Humans vs. Gods (人間 vs. 神, Ningen Bāsasu Kami)
Case 22. White Painting Out the Black (黒を塗り潰す白, Kuro O Nuritsubusu Shiro)
Case 23. The Greedy Trump Card (貪欲な切り札, Don'yokuna Kirifuda)
Last Case. Heidi (ハイジ, Haiji)
Special Case. Parent and Child (親子, Oyako)
External Links
Edit
Other Sources
Edit
Other Wikis
Edit
References
Edit
Ad blocker interference detected!
Wikia is a free-to-use site that makes money from advertising. We have a modified experience for viewers using ad blockers

Wikia is not accessible if you've made further modifications. Remove the custom ad blocker rule(s) and the page will load as expected.