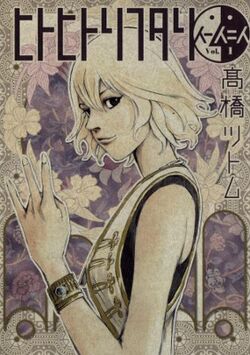 ---
---
Genre:

Drama , Supernatural , Seinen

"Seinen" is not in the list of possible values (Action, Adventure, Comedy, Drama, Fantasy, Horror, Mecha, Mystery, Psychological, Romance, Science Fiction, Slice of Life, Sports, Supernatural, Yaoi, Yuri, Hentai) for this property.

Expression error: Unrecognised word "span".

Media:
Hito Hitori Futari (ヒトヒトリフタリ, Hito Hitori Futari) is a manga written and illustrated by Takahashi Tsutomu. It was serialized in Weekly Young Jump from November 2, 2011 to August 1, 2013.
After the body dies, the soul lives on. Many spirits progress toward the world of light, through the levels of the spirit world where they study how to improve their souls. These spirits are sometimes reincarnated into the physical world, and sometimes they are sent back as guardian spirits for other living people. Guardian spirits must protect their charges souls from the blackness that oozes up from the world of darkness below.
Riyon is a very laid-back spirit, who often skips her spirit classes to fool around. To train her further, she is sent back to the physical world as a guardian spirit. Instead of following a human from birth, she is helping a beleaguered man, the Japanese Prime Minister Kasuga Soichiro, in the last year and a half of his life. After an unexpected close call with death, Kasuga gains some unusual talents, including the ability to see Riyon. Will Riyon and Kasuga together be able to protect his battered soul?
External Links
Edit
Other Sources
Edit
Other Wikis
Edit
References
Edit