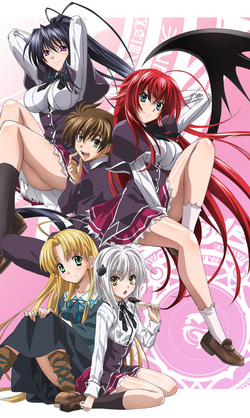 ---
High School DxD Wiki
Wiki founding: January 16, 2012
Page count: 576
Last checked: January 3, 2017

---
Fanon Wiki: High School DxD Wiki
---
High School DxD (ハイスクールD×D) is a light novel series written by Ichiei Ishibumi and illustrated by Miyama-Zero. The light novel version has 19 Volumes published.
High School DxD began as a Japanese light novel series written by Ichiei Ishibumi and illustrated by Miyama-Zero. The series began serialization in Fujimi Shobo's Dragon Magazine in its September 2008 issue, and the first volume was released in Japan on September 20, 2008. There are currently twenty-two volumes available in Japan as of September 3rd, 2016 sold under Fujimi Shobo's Fujimi Fantasia Bunko imprint.
A manga adaptation of High School DxD, illustrated by Hiroji Mishima, began serialization in the July 2010 issue of Fujimi Shobo's Dragon Magazine. Following the third chapter, the manga began regular monthly serialization in Monthly Dragon Age. The first volume of the manga was published by Fujimi Shobo on June 9, 2011, under their Dragon Comics Age imprint. There are currently seven volumes of the manga published as of December 9, 2014
An anime adaptation of High School DxD was first announced on April 15, 2011 by author Ichiei Ishibumi on his Twitter page, with the official website launching soon after. The anime was produced by TNK under the directorship of Tetsuya Yanagisawa, and aired twelve episodes in Japan on AT-X and other networks from January 6, 2012 to March 23, 2012. AT-X airings of the series were uncensored, while the airings on TV Kanagawa (which began on January 11, 2012) and other networks were heavily censored. Six DVD and Blu-ray compilation volumes were released by Media Factory between March 21, 2012 and August 29, 2012, each containing an OVA short entitled "Release the Swaying Delusions" (妄想爆揺解除オリジナルビデオ, Mōsō Bakuyure Kaijo Orijinaru Bideo, lit. "Release the Swaying Delusions Original Video") and other bonus material.
A second season of High School DxD, titled High School DxD New (ハイスクールD×D NEW, Haisukūru Dī Dī Nyū), was announced at the post-end credits of the 13th episode, and premiered on AT-X and Chiba TV on July 7, 2013. The second season adapts volumes three and four of the light novels and is split into two arcs: the "Excalibur of the Moonlit Schoolyard" (ハイスクールD×D3 月光校庭のエクスカリバー, Gekkō Kōtei no Ekusukaribā) arc and the "Vampire of the Suspended Classroom" (停止教室のヴァンパイア, Teishi Kyōshitsu no Vanpaia) arc. As with the first season, AT-X airings are uncensored, while airings on all other channels are heavily censored. An unaired episode 13 for the second season is set to be released on March 10, 2015 along with the High School DX.1 short story compilation book.
A third season, High School DxD BorN (ハイスクールD×D BorN, Haisukūru Di Di BorN), was announced on June 13, 2014 by Fujimi Shobo with the title and airing date being released on December 6, 2014. High School DxD BorN is set to be aired on April 4, 2015 and will cover the remaining parts of the Birth of the Breast Dragon Emperor arc.
The story follows Issei Hyōdō, a dim-witted, lecherous second-year high school student who is killed by a girl on his first date ever. Issei is reincarnated as a devil, and from that day forward, he serves as an underling of Rias, a high-level devil who is also the prettiest girl on Issei's campus.
External Links
Edit
Other Sources
Edit
Other Wikis
Edit
References
Edit
Ad blocker interference detected!
Wikia is a free-to-use site that makes money from advertising. We have a modified experience for viewers using ad blockers

Wikia is not accessible if you've made further modifications. Remove the custom ad blocker rule(s) and the page will load as expected.