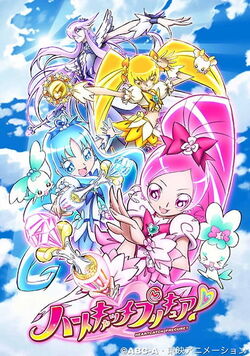 ---
---
Demographic:

Genre:

Fantasy , Kodomo

"Kodomo" is not in the list of possible values (Action, Adventure, Comedy, Drama, Fantasy, Horror, Mecha, Mystery, Psychological, Romance, Science Fiction, Slice of Life, Sports, Supernatural, Yaoi, Yuri, Hentai) for this property.

Expression error: Unrecognised word "span".

Tags:

Magic 

Media:
HeartCatch PreCure! (ハートキャッチプリキュア!, Hātokyatchi PuriKyua!), or HeartCatch Pretty Cure! is a Japanese anime series and the seventh Pretty Cure installment by Izumi Todo. Produced by Toei Animation, the series is directed by Tatsuya Nagamine (Beet the Vandel Buster) and written by Takashi Yamada (Ojamajo Doremi). Official character designs were done by Yoshihiko Umakoshi (Guyver: The Bioboosted Armor, Casshern Sins, and Marmalade Boy). The series premiered on February 7, 2010 on TV Asahi's ANN network, following Fresh Pretty Cure!, and ended on January 30, 2011, where it was followed by Suite PreCure. The series has two main motifs. One is fashion, which is referenced to Tsubomi joining the fashion club, which is part of the storyline. And second is flowers, which are prominent in the naming of numerous characters and items, as well as in the main storyline. Additionally, most episodes contain at least one reference to the language of flowers.
2nd year middle school student named Hanasaki Tsubomihas just moved with her family to the town of Kibougahana to live with her grandma. She is shy and introverted, but is determined to start off her new school life at Myoudou Academy as confidently as possible.
Lately she has been having the same mysterious dream again and again, of Cure Moonlight's defeat at the Great Heart Tree. She wonders what it all means. Then suddenly, two fairies from the dream appear to her, and before she knows it, she is transformed into the legendary Pretty Cure, Cure Blossom!
Later joined by her high energy classmate and new friend Kurumi Erika as Cure Marine, the two girls vow work hard to protect everyone's Heart Flowers from the evil gang, The Desert Messengers.
External Links
Edit
Other Sources
Edit
Other Wikis
Edit
References
Edit