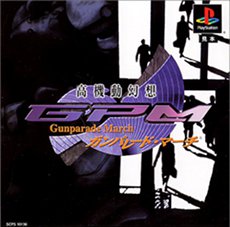 ---
Gunparade March Wiki
Wiki founding
: March 14, 2010‎
Page count
: 24
Last checked
: July 13, 2017
---
Gunparade March (ガンパレード・マーチ, Ganparēdo Māchi) is a Japanese video game that was later turned into a 3-volume manga and a 12-episode anime.
The video game, Kōkidō Gensō Gunparade March (高機動幻想ガンパレード・マーチ), was released on 28 September 2000, for the PlayStation. It was developed by Alfa System and published by Sony Computer Entertainment. Due to its creativity and attention to detail, it won the prestigious Seiun Award in 2001.
The manga by Hiroyuki Sanadura was serialized in the magazine Dengeki Daioh. The three volumes published by MediaWorks between 2001 and 2003 were translated by ADV Manga between 2004 and 2005.
The anime, Gunparade March: The New March (ガンパレード・マーチ 〜新たなる行軍歌〜, Ganparēdo Māchi: Aratanaru Kōgunka), which was produced by J.C.Staff was broadcast on MBS from 6 February 2003 to 23 April 2003. It is licensed for distribution in the United States by Media Blasters as simply "Gunparade March".
In 1945, World War II was abruptly ended when an alien race appeared on Earth and began to slaughter the human population. This alien force, known as the "Phantom Beasts" (or Genjyu in Japanese) had effectively taken over more than half of the Earth. The year is 1999 – 54 years later, mankind is still fighting to survive against the alien forces. Earth forces now use advanced mecha called Humanoid Walking Tanks (HWTs) to combat the invaders, but throughout the ordeal, far too many pilots have been killed in action. To ensure the future of the human race, the Japanese government enforced a student draft which recruited high school students to become HWT pilots. Gunparade March follows the lives of the 5121th Platoon, which consists mainly of drafted high school students and their struggle to defeat the Phantom Beasts and at the same time, lead a normal social life.
External Links
Edit
Other Sources
Edit
Other Wikis
Edit
References
Edit