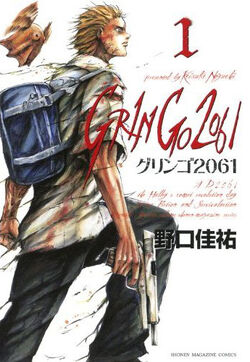 ---
---
Gringo 2061 (グリンゴ2061 Guringo 2061) is a Japanese manga series written and illustrated by NOGUCHI Keisuke.
28 July 2061 was an unlucky day for Raiji, in which he was falsely accused of being a groper on public transport. That evening, he joined his friends, Yuma and Osamu, to watch Halley's Comet. The comet appeared to arrive a few hours ahead of schedule, but it didn't just pass by in the night sky. Instead, there was a blinding flash, and all the people Raiji and his friends had been watching with vanished. Not only that, but the area around them was suddenly filled with nightmarish giant mushrooms and twisted human faces. In this new, violent world, the three of them will encounter dangers human and inhuman!
External Links
Edit
Other Sources
Edit
Other Wikis
Edit
References
Edit
Ad blocker interference detected!
Wikia is a free-to-use site that makes money from advertising. We have a modified experience for viewers using ad blockers

Wikia is not accessible if you've made further modifications. Remove the custom ad blocker rule(s) and the page will load as expected.