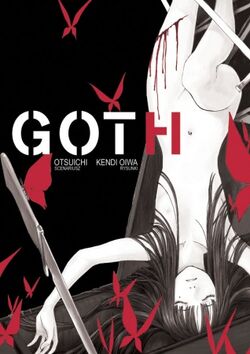 ---
---
Genre:

Media:

Manga, Novel, Live Action, Film
GOTH (ゴス, Gosu) is a Japanese novel written by Otsuichi about two high school students fascinated by murder. The novel won the Honkaku Mystery Award in 2003. It was adapted into a manga by Kendi Oiwa. Both were published in Japan by Kadokawa, and were published in English by Tokyopop in October and September, 2008. In 2008, the novel was adapted into a live action movie directed by Gen Takahashi. A film adaptation was released in Japan in 2008. The manga and novel was rereleased in North America by VIZ Media in August 2015.
A rather morbid, sombre story about two high school students—Kamiyama Itsuki and Morino Yoru—who have a peculiar interest in death; especially in murders that are committed close to them. Due to their strong fascination with murder and highly-developed analytical skills (along with some luck), they manage to solve the murders that have eluded even the authorities. Often, it is Kamiyama that solves the bulk of the crimes, down to the smallest of details. But there's only one thing he is interested in; by which method should Morino be killed.
External Links
Edit
Other Sources
Edit
Other Wikis
Edit
References
Edit
Ad blocker interference detected!
Wikia is a free-to-use site that makes money from advertising. We have a modified experience for viewers using ad blockers

Wikia is not accessible if you've made further modifications. Remove the custom ad blocker rule(s) and the page will load as expected.