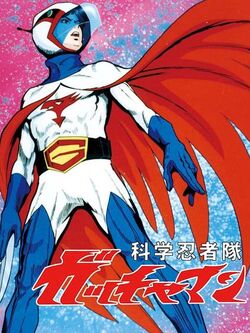 ---
Gatchaman Wiki
Wiki founding
: July 05, 2010
Page count
: 148
Last checked
: October 7, 2017
---
Genre:

Media:

Anime, Film, Live Action
Science Ninja Team Gatchaman (科学忍者隊ガッチャマン, Kagaku Ninjatai Gatchaman) is a Japanese animated franchise about a five-member superhero team created by Tatsuo Yoshida and produced by Tatsunoko Productions. The original anime series debuted in 1972, was eponymously entitled Kagaku Ninja Tai Gatchaman and is best known in the English-speaking world as the adaptation entitled Battle of the Planets (1978). The series had additional English adaptations with G-Force: Guardians of Space (1986) and ADV Films' uncut 2005 release. Tatsunoko also uses the official translation Science Commando Gatchaman in related products and media.
The original Kagaku Ninja Tai Gatchaman series was followed by an animated film and two direct sequel series, Gatchaman II (1978) and Gatchaman Fighter (1979). During the 1990s, episodes from both series were dubbed into English by Saban as Eagle Riders.
In the years since, the franchise has spawned many different productions, some that were left unproduced or evolved significantly from its development. This includes a 1994 original animated video remake, a cancelled 2011 animated film reboot by Imagi Animation Studios but revived through a 2013 Japanese live-action film reboot by Nikkatsu Studios, various spinoffs, re-imaginings, and merchandise.
Five young superhero ninja employed by Kōzaburō Nambu of the fictitious International Science Organization gather to oppose an international terrorist organization of technologically advanced villains (Galactor) who tend to monopolize Earth's natural resources.
External Links
Edit
Other Sources
Edit
Other Wikis
Edit
References
Edit