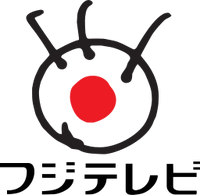 Fuji Television Network, Inc. (株式会社フジテレビジョン, Kabushiki Gaisha Fuji Terebijon) is a Japanese television station based in Daiba, Minato, Tokyo, Japan, also known as Fuji TV (フジテレビ, Fuji Terebi) or CX, based on the station's callsign "JOCX-DTV". It is the flagship station of the Fuji News Network (FNN) and the Fuji Network System.
Fuji Television also operates three premium television stations, known as "Fuji TV One" ("Fuji TV 739" - sports/variety), "Fuji TV Two" ("Fuji TV 721" - drama/anime), and "Fuji TV Next" ("Fuji TV CSHD" - live premium shows) (called together as "Fuji TV OneTwoNext"), all available in High-definition. It is owned by Fuji Media Holdings, Inc., the holding company of the Fujisankei Communications Group.
Ad blocker interference detected!
Wikia is a free-to-use site that makes money from advertising. We have a modified experience for viewers using ad blockers

Wikia is not accessible if you've made further modifications. Remove the custom ad blocker rule(s) and the page will load as expected.