Ad blocker interference detected!
Wikia is a free-to-use site that makes money from advertising. We have a modified experience for viewers using ad blockers

Wikia is not accessible if you've made further modifications. Remove the custom ad blocker rule(s) and the page will load as expected.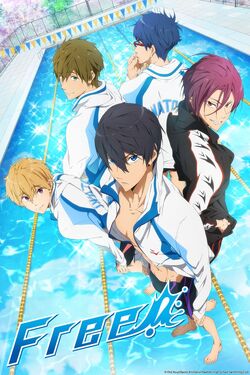 ---
Free! Wiki
Wiki founding
: April 26, 2013
Page count
: 534
Last checked
: October 22, 2016
---
Free! is a Japanese anime television series directed by Hiroko Utsumi and produced by Kyoto Animation and Animation Do. The anime is based on the light novel written by Kōji Ōji, High Speed! (ハイ☆スピード! Hai Supīdo!?), which received an honorable mention in the second Kyoto Animation Award contest in 2011 and was later published in July 2013. The first season, titled Free! - Iwatobi Swim Club for international distribution, aired in Japan between July and September 2013, and the second season, titled Free! - Eternal Summer, aired between July and September 2014. An animated film, High Speed! - Free! Starting Days, was released on December 5, 2015.
Free! is set in the town of Iwatobi, which is based on the real town of Iwami, Tottori. Iwami has since used Free! to promote tourism to the town. The story starts with four boys—Haruka, Makoto, Nagisa and Rin—before they graduate from elementary school. They all participated in a swimming tournament and won, though they parted ways. Years later, Haruka and Makoto reunite with Nagisa when he enrolls in their high school. Not long after, Rin, who was thought to be in Australia, turns up and challenges Haruka to a race and wins. Afterward, Nagisa suggests creating a swimming club and using the school's run-down outdoor pool. Haruka, Makoto, Nagisa, and later on, Rei, create the Iwatobi High School Swimming Club and work together to make the club a success. Rin's victory over Haruka means nothing to him as he realizes that Haruka had stopped swimming competitively and wasn't in top shape. He claims that he cannot get over the fact until Haruka competes against him for real. The members of the Iwatobi High School Swim Club later enter a swimming competition against Rin.
External Links
Edit
Other Sources
Edit
Other Wikis
Edit
Free-Anime—founded 2013 April 26. (170 pages, active editors.)
FreeTheAnime—founded 2013 May 8. (7 pages, no editors.)
Iwatobi—founded 2013 April 26. (18 pages, no editors.)
References
Edit