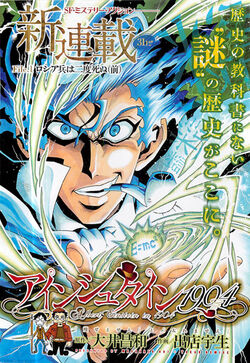 ---
---
Genre:

Action , Fantasy , Mystery , Supernatural , Seinen

"Seinen" is not in the list of possible values (Action, Adventure, Comedy, Drama, Fantasy, Horror, Mecha, Mystery, Psychological, Romance, Science Fiction, Slice of Life, Sports, Supernatural, Yaoi, Yuri, Hentai) for this property.

Expression error: Unrecognised word "span".

Media:
Einstein 1904 (アインシュタイン1904, Ainshutain 1904) is a Japanese manga series written by Takao Demise and illustrated by Masakazu Ooi.
The year is 1904, in the heart of Switzerland's capital, Bern. Self-proclaimed genius, detective, and professor, Albert can detect the most minute details in any scenario and come to a rational conclusion. The recent murder of Russian soldiers by a mysterious oriental is no exception. The mysterious oriental, who turns out to be Japanese, proclaims that he is innocent of murder. Why? Because the Russians were already dead to begin with. Follow Albert as he seeks the truth in this mystery that crosses bounds between countries and fantasy.
External Links
Edit
Other Sources
Edit
Other Wikis
Edit
References
Edit