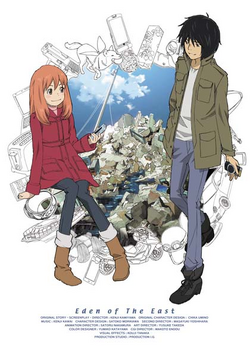 ---
Eden Of The East Wiki
Wiki founding
: June 1, 2009
Page count
: 63
Last checked
: June 14, 2017
---
Eden of the East (東のエデン, Higashi no Eden) is a Japanese anime television series, which premiered on Fuji TV's Noitamina timeslot on April 9, 2009. Created, directed and written by Kenji Kamiyama, it features character designs by Chika Umino and animation production by Production I.G. Based on an original story by Kamiyama, it is the first original noitaminA series.[1][2]
A compilation of the tv series, Eden of The East Compilation: Air Communication, had a limited theatrical release on September 26, 2009.[3] Two other theatrical films are planned for release. The first movie will be released in Japan on December 19, 2009 while the second movie will be released on March 2010.[4][5][6] The anime tv series has been acquired for release in the US by Funimation.[7]
The first film is titled "King of Eden". The second is titled "Paradise Lost".
On November 22, 2010, eleven missiles strike against uninhabited areas of Japan, claiming no victims. This apparent terrorist act is referred to as "Careless Monday" and disregarded by most people. The series begins three months later, with a young Japanese woman named Saki Morimi visiting Washington D.C. as part of her graduation trip. When she gets into trouble, a mysterious Japanese man, who introduces himself as Akira Takizawa, helps her through it. The man appears to have no memory and is completely naked, carrying only a gun and a cell phone charged with 8.2 billion yen in digital money.[1] The cell phone has the phrase, noblesse oblige ("nobility obligates" or "noble's obligation" in English), printed on it. While they are coming back to Japan, they learn that a new missile attack has taken place in their country.
External Links
Edit
Other Sources
Edit
Other Wikis
Edit
References
Edit
↑ 1.0 1.1 "ノイタミナ:攻殻・神山とハチクロ・羽海野がタッグ アニメ「東のエデン」が09年4月から". Mainichi Shimbun. 2008-11-27. http://mainichi.jp/enta/mantan/anime/news/20081127mog00m200027000c.html

. Retrieved 2009-03-18

.

 

↑ "Ghost in the Shell's Kamiyama to Launch Eden of the East Anime". Anime News Network. 2008-11-25. http://www.animenewsnetwork.com/news/2008-11-25/ghost-in-the-shell-kamiyama-to-launch-eden-of-the-east-anime

. Retrieved 2009-03-18

.

 

↑ "Eden of the East Compilation to Open Before New Films". Anime News Network. 2009-07-31. http://www.animenewsnetwork.com/news/2009-07-31/eden-of-the-east-compilation-to-open-before-new-films

. Retrieved 2009-11-25

.

 

↑ "Eden of the East Gets Two Theatrical Films Green-Lit". Anime News Network. 2009-06-18. http://www.animenewsnetwork.com/news/2009-06-18/eden-of-the-east-gets-two-theatrical-films-green-lit

. Retrieved 2009-06-19

.

 

↑ "Eden of the East II Film Expanded, Delayed Until March". Anime News Network. 2009-11-24. http://www.animenewsnetwork.com/news/2009-11-24/eden-of-the-east-ii-film-expanded-delayed-until-march

. Retrieved 2009-11-25

.

 
Ad blocker interference detected!
Wikia is a free-to-use site that makes money from advertising. We have a modified experience for viewers using ad blockers

Wikia is not accessible if you've made further modifications. Remove the custom ad blocker rule(s) and the page will load as expected.