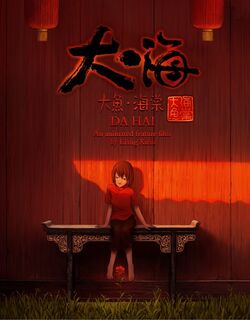 ---
---
Genre:

Media:

Film
Big Fish & Begonia (大鱼海棠, Dai Hai) is an animated film by B&T.
This is a mythic land where no outsider has ever set foot. The spirit-like dwellers there, however, know us mortals well. They are responsible for human emotions and desires, for seasons, weather, the elapsing of time...
Our protagonist, a spirit girl named Chun, has just turned sixteen and goes in the form of a dolphin to explore the earthly part of the sea, to see what the human world is like. While cruising at sea, Chun gets caught in a storm and finds herself enmeshed in a fishing net. A human boy spots her and comes to her rescue, trying to free Chun from the entanglement. By accident, the boy drowns leaving Chun wretched and heartbroken.
External Links
Edit
Other Sources
Edit
Other Wikis
Edit
References
Edit
Ad blocker interference detected!
Wikia is a free-to-use site that makes money from advertising. We have a modified experience for viewers using ad blockers

Wikia is not accessible if you've made further modifications. Remove the custom ad blocker rule(s) and the page will load as expected.