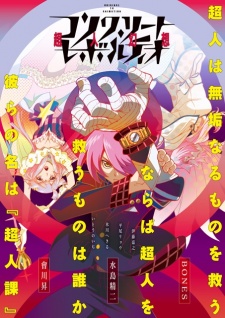 ---
Concrete Revolutio: Choujin Gensou
Wiki founding
: September 6, 2015
Page count
: 12
Last checked
: September 24, 2015
---
Concrete Revoutio: Choujin Gensou is an anime by Studio Bones and directed by Seiji Mizushima, with a script done by Shou Hikawa.
In an imaginary "age of gods" about 20 years after the war, Japan has grown and developed by leaps and bounds. What if all the superhumans ever written about in fictional stories existed at the same time? Superhumans who came into existence through different circumstances, and who are special in different ways—Titans from outer space, lifeforms from a mystical world, phantoms and goblins from ancient times, cyborgs created by scientists, relics that rose out of the ruins of ancient civilizations, and the list goes on. One segment of these superhumans makes no secret of their existence and has gained popularity in society. Others cloak their identities and fight in secrecy.
Their mission is to identify and approach superhumans, then oversee and safeguard them. One member of the Superhuman Bureau, Jirou Hitoyoshi, is protagonist of this series.
External Links
Edit
http://concreterevolutio.com/en/
Other Sources
Edit
Other Wikis
Edit
References
Edit
Ad blocker interference detected!
Wikia is a free-to-use site that makes money from advertising. We have a modified experience for viewers using ad blockers

Wikia is not accessible if you've made further modifications. Remove the custom ad blocker rule(s) and the page will load as expected.